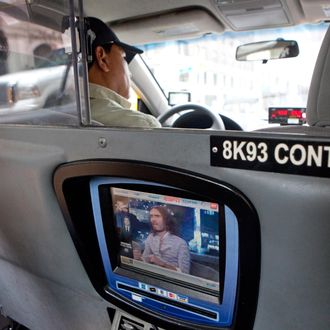 Photo: Melanie Stetson Freeman/The Christian Science Monitor via Getty Images
In one more example of Mayor de Blasio chiseling away at the margins of Mayor Bloomberg's legacy, those annoying TV screens installed in the back of cabs in 2008 proffering Jimmy Kimmel clips and chirpy loops of Eyewitness News will likely be removed, the Taxi and Limousine Commission said Monday night.
The TVs were installed in all 13,587 yellow cabs as part of something called the Taxicab Passenger Enhancement Project. Bloomberg agreed to a 26 percent fare hike in exchange for each taxi agreeing to accept credit cards (this is why you swipe your card under the screen). Commercials and mind-numbing clips from NBC, ABC, and a city-government station are force-fed to 600,000 trapped passengers a day.
Taxi drivers really hated them, especially since they didn't get a cut of the ad revenue (the city didn't either).
In addition to cancelling "Taxi TV," the TLC hopes to introduce a new GPS-based meter to replace the algorithm-based ones currently in use. The commission will take its final vote on both measures this Thursday night.
Last year, de Blasio was forced to accept Bloomberg's other defining cab-related initiative, the Taxi of Tomorrow.