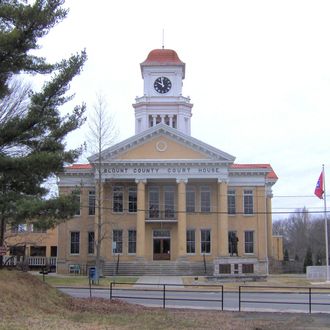 Commissioners in Blount County, Tennessee — population 126,339, 95 percent white, near Knoxville — will vote Tuesday night on a resolution apologizing to God for the Supreme Court's legalization of same-sex marriage.
The resolution finds its logic in a divide between the law of the land as determined in Washington and what they believe to be natural law. It proposes that the official belief of Blount County should be that "not all orders claiming authority under the color of the law are lawful."   
Karen Miller, the recently elected Republican commissioner of Blount County, drafted the resolution with the fear of fire and brimstone in mind.
Not everyone in the county thinks the resolution is necessary. Ginny West Case, a retired teacher and Methodist, told a local newspaper, "The Bible, over and over, tells us God is the God of love and grace and mercy." A demonstration outside the county courthouse has been organized for this evening by the Tennessee Equality Project and PFLAG Maryville, as well as an online campaign.
The resolution will be considered tonight along with routine budget and school-board issues. This is Tennessee's second official action against the Supreme Court's ruling on marriage equality. Last month two Tennessee State representatives proposed the "Natural Marriage Defense Act." 
Blount is a four-hour drive from Rowan County, Kentucky, home to Kim Davis, another hero of the modern nullification movement.