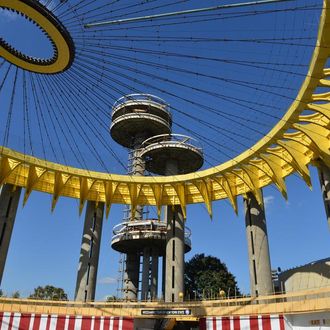 Fresh paint! Better than nothing.
Photo: New York City Department of Parks and Recreation
The New York State Pavilion of the 1964 World's Fair is the city's most glamorously peculiar modernist ruin. Built in Flushing Meadows for the fair, and visible to this day from the Grand Central Parkway, it has since mostly been left to crumble. The terrazzo map of New York that made up the floor has long since been shattered and scattered. (Some of it has been salvaged and preserved by the Queens Museum nearby.) The SkyStreak elevators that carried fairgoers to the observation platforms — this was long before Men in Black gave the towers a fake interstellar backstory — became wreckage at the bottom of each shaft. The pavilion's translucent colored-plastic rooftop panels were removed decades ago, and the steel cables that held them up are still in place but are badly corroded. Philip Johnson, the building's architect, gave up on it before his death in 2005, suggesting that it be allowed to go entirely to seed, like a castle fundament on the Scottish moors. But: Look again! The top has been repainted a cheery yellow.
Official attention is once again being paid. Last year, an open house to mark the building's 50th anniversary was mobbed, as hundreds of people waited in line for hours to experience a few moments inside the pavilion's shell. Queens borough president Melinda Katz has, according to a Daily News report, found $8 million to do basic repairs, including that coat of yellow paint and some rust removal on the upper levels, and work on the electrical systems and the concrete of the observation towers. It's not a full-on restoration yet, because for that everyone (as my colleague Joe DeLessio has noted) would need to decide what exactly to do with this big odd curio, but it'll make the structure stable and potentially useful for … something.
After the fair closed, it was used as a roller-skating rink and as a performance space (by something called the Council for International Recreation, Culture, and Lifelong Education). So maybe it could, after being polished up, return to those functions. But these days, even a big Shake Shack would be a hit. Ideas are going to be flying around this weekend at Open House New York, because visitors will once again be lining up for access. The pavilion's old nickname, the Tent of Tomorrow, is curiously apt: The structure does, against the odds, seem to have some sort of a future. What it needs next is an idea for what that might be.