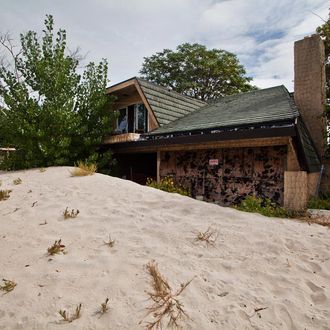 A house in Sea Gate, Brooklyn, photographed in September 2015.
Photo: Konstantin Sergeyev
Hurricane Sandy struck three years ago today, flooding the coasts of New York and New Jersey and, unforgettably, putting out the lights in half of Manhattan.
And unless you were directly affected by it, it's pretty easy to forget, or at least not think about it. But it's not if you're still trying to rebuild, as many people are. This spring, the Federal Emergency Management Agency began a review of 17,000 Hurricane Sandy–related disaster claims. According to ABC News, the resulting report found that roughly three in five were still owed money. Some people are waiting for more than $100,000, and FEMA is trying to fix the problem by doling out additional reimbursements, at an average of $15,000.
More than 2,000 lawsuits were filed against FEMA by those who claimed they were shortchanged. To resolve these cases, the agency has paid about more than $72 million.
To date, FEMA has disbursed close to $8.1 billion in aid to the 144,000 who filed a policy claim.
However, the agency also thinks that many people who deserve more money are too tired of doing paperwork and dealing with the hassle and have given up on seeking what they might still be owed.
But rebuilding is full of other obstacles and hassles, from the banks, insurers, and state authorities. Earlier this week, there were protesters at the New Jersey statehouse, blaming Governor Chris Christie for ignoring their problems while he runs for president. One man, without a home for two years, even flew to confront Christie at a campaign stop in Iowa.
New Jersey says a majority of claimants have been issued at least one payment, and that 2,000 out of 8,000 residents have completed construction of their damaged property. Still, more than 60 percent of Sandy survivors have expressed dissatisfaction with New Jersey's handling of rebuilding efforts, according to a new Monmouth University poll out this week. Many say they feel "forgotten." 
Christie has received additional criticism for his state's failure to move on larger statewide recovery projects. A bank designed to loan out $200 million, provided by a block grant from the U.S. Department of Housing and Urban Development, for energy and infrastructure projects has yet to provide one penny.
And don't forget that he put a stop to a plan to build two new rail tunnels under the Hudson; century-old ones were heavily damaged by the storm but can't be taken out of service to be repaired until new ones are eventually built.
In New York City, officials are still trying to figure out how to best prepare the subway system for another storm. The MTA still has years of work to do until it can repair the transportation system and make it as storm-proof as possible — especially in Lower Manhattan.
On Staten Island, Habitat for Humanity is still volunteering time to help residents rebuild homes. Mayor Bill de Blasio toured the Rockaways earlier this week, where a few dozen houses still haven't been rebuilt.
The city is trying to make sure it can weather the next superstorm better. But it's expensive. "The needle is moving in the right direction, but we need to be moving faster," Bill Ulfelder, state director for the Nature Conservancy, told Inside Climate News. "We are not above any resiliency threshold to be able to sit back and say we are ready for the next storm."