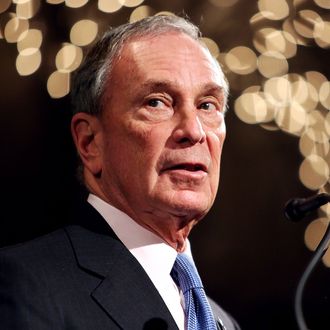 Michael Bloomberg.
Photo: Monica Schipper/Getty Images
Supposedly Joe Biden will announce whether he's entering the presidential race very shortly, but that doesn't mean the ridiculous 2016 speculation has to end. In August, Rupert Murdoch called for Michael Bloomberg to launch a campaign, and now the New York Times' Andrew Ross Sorkin reports that the former mayor's wealthy pals agree. He's reportedly been bombarded with phone calls urging him to run, and two weeks ago billionaire hedge-fund investor Bill Ackman said at a Bloomberg Markets conference, "I would do everything in my power to get this guy elected."
While Bloomberg himself has said that he could only run as an independent, and questioned whether a "short, Jewish, divorced billionaire" could be elected, seeing a tall, Presbyterian, twice-divorced billionaire in the lead has given business executives hope. "People thought a billionaire couldn't run for president," Ackman told Sorkin. "Trump disabused everyone of that notion." Bloomberg doesn't really fire up the anti-establishment Evangelicals and tea partiers behind Trump's meteoric rise, but perhaps he is breaking barriers for the insanely wealthy. The deadline for an independent to declare is March, so we have plenty of time to discuss.