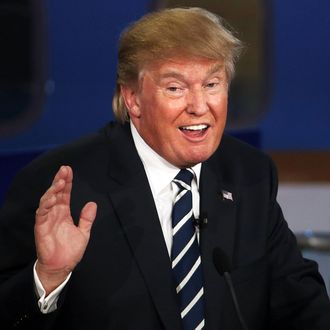 Donald Trump.
Photo: Justin Sullivan/Getty Images
Amid mounting scrutiny of its ties to the Donald Trump campaign, the Make America Great Again super-pac is closing up shop to nip a potential scandal in the bud.
Politico reports that Republican operative Mike Ciletti, who founded the super-pac in July to promote Trump's candidacy for the Republican presidential nomination, decided to shut it down "to erase any questions as to whether [Trump] has a super-PAC."
"Mr. Trump has said he doesn't have a super-PAC," Ciletti told Politico. "So to honor his wishes, I'm shutting my organization down."
Earlier this week, the Washington Post revealed that Ciletti had used contact information obtained from the real-estate tycoon's assistant Rhona Graff to solicit funds for the organization. The Post also discovered that the Trump campaign had directed funds totaling $89,000 to two separate companies connected to Ciletti while he was operating the Make America Great Again pac.
The law prohibits super-pacs, which can accept unlimited donor contributions, from coordinating directly with campaigns, although the inherent murkiness of what constitutes "coordination" is one of the main reasons why advocates of transparency in campaign financing oppose them. Ciletti denies having done anything wrong.
Trump's campaign manager Corey Lewandowski insists that the campaign has not endorsed Make America Great Again or any other super-pac. Trump has been selling himself to voters as a financially independent candidate with no ties to wealthy donors, and has even criticized his opponents for relying on super-pac money.
Will this apparent instance of hypocrisy hurt the Trump campaign? Maybe, maybe not. Republican political consultant Alex Castellanos told the New York Times that Trump's in the clear, because "GOP voters want him to do whatever it takes to blow up the establishment."