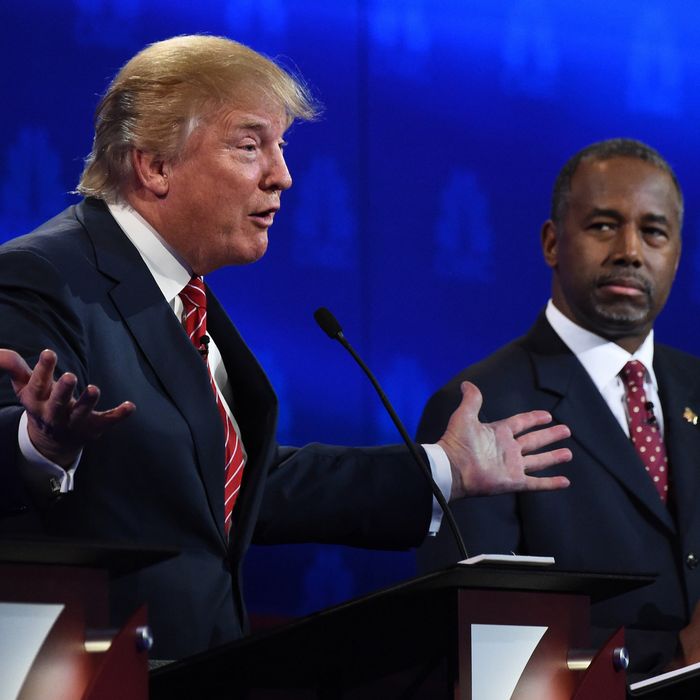 Photo: Robyn Beck/AFP/Getty Images
Throughout his scorched-earth presidential campaign, Donald Trump has mastered the art of the political attack against all of his rivals save one: Ben Carson. How he should handle the soft-spoken former neurosurgeon has been a question that's vexed Trump from the moment Carson began eating into Trump's lead. First, Trump tried attacking Carson head-on, questioning his medical reputation by calling him an "okay doctor" (Carson is known to have separated the first conjoined infant twins). When that didn't work, he tried embracing him onstage at the second primary debate.
Now, as Carson overtakes Trump as the GOP front-runner, it appears Trump is getting help from a media outlet known for ending presidential candidacies: the National Enquirer. Earlier this month, the Enquirer published a cover story on Carson headlined "Bungling Surgeon Ben Carson Left Sponge in Patient's Brain!" The article called Carson a "White House wannabe" and claimed he "brandished a scalpel like a meat cleaver!" It went on to quote angry former patients saying he botched surgeries that left them disfigured and in pain; one patient who sued Carson said he forgot to remove a surgical sponge from her brain after a procedure. "His presidential campaign should be dead on arrival!" Enquirer reporter Sharon Churcher wrote.
Trump and Enquirer CEO David Pecker have been friends for years. "They're very close," said a source close to the Enquirer. In July 2013, Trump even tweeted that Pecker should become CEO of Time magazine, which at the time was being spun off from its corporate parent, Time Warner. "He'd make it exciting and win awards!"
This person also said that Trump's campaign was a source for the article: "His campaign provided information that was used," he explained. A Trump friend said that in the days leading up to the article's publication Trump was telling people that Carson "had a lot of medical malpractice suits" and "almost killed a guy."
Trump's spokesperson, Hope Hicks, told me "there's absolutely no truth" to the claim Trump was behind the article. When I asked the Enquirer for comment, Pecker said it was "utterly false" that the Trump campaign was their source. "We did what the National Enquirer has always done, our investigative reporters went back and poured through numerous legal documents to discover the details that led to our exclusive coverage of malpractice claims against Ben Carson," he said in a statement.
Whether or not Trump has been a source for the Enquirer, his friendship with Pecker has paid dividends. At key moments during the GOP primary the Enquirer has helped boost Trump's campaign by attacking his rivals and fawning over him. Two weeks after Trump launched his campaign in mid-June, the Enquirer reported that Jeb Bush was "involved in the drug trade in Florida" in the '80s and that, as governor, he was plagued by "sleazy cheating scandals … [with a] Playboy Bunny turned lawyer." In September, the Enquirer published an unflattering photograph of Bush's adult daughter apparently taking cigarette breaks at her office. The article hit just days after Jeb told Americans they needed to work longer hours.
Carly Fiorina has also been slimed. After the former Hewlett-Packard CEO bested Trump at the second GOP debate last month, the Enquirer ran an article headlined "Homewrecker Carly Fiorina Lied About Druggie Daughter." The article attacked one of Fiorina's best moments at the debate: her emotional account of her daughter's struggle with drug addiction. "The National Enquirer has exclusively learned that Lori Ann Fiorina, who died in October 2009, was in fact Carly's stepdaughter," the tabloid reported. "She was brought up not by Carly but by her biological mom, Patricia Fiorina, whose marriage allegedly was wrecked by the 61-year-old White House hopeful who is determined to knock Donald Trump from his superior front-runner status!"
The tabloid has also gone after Hillary Clinton, of course. A series of cover stories has alleged that Clinton is on her deathbed and is "engaging in a massive cover-up about her health." The Enquirer claims she is suffering from strokes, brain cancer, depression, alcoholism, multiple sclerosis, endometriosis, and paranoia, among other dire conditions.
Meanwhile, Trump has been exclusively celebrated in the Enquirer's pages. As talk of a Trump candidacy heated up last winter, the tabloid published an article headlined "Trump's the One!" that reported him leading in the polls. In September, the Enquirer published a three-part series by Trump himself under the headline "The Man Behind the Legend!"
Trump's scandal-filled personal life would be yuge! for the supermarket tabloid, but to the Enquirer, it seems, friendship is forever.