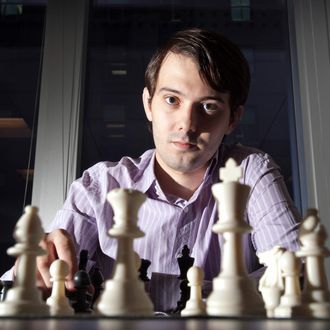 Photo: Paul Taggart/Bloomberg via Getty Images
Turing Pharmaceuticals — the company run by that infamous hedge-fund guy who raised the price of a generic drug used by AIDS and cancer patients from $13.50 a pill to $750 — just got some competition.
Imprimis Pharmaceuticals introduced an alternative to Turing's Daraprim on Thursday, which it plans retail at $1 a pill. The San Diego–based company's drug contains pyrimethamine, the same active ingredient as Turing's Daraprim. While pyrimethamine has been generic for a long time, Daraprim's original low-price and niche market had left little incentive for competitors to launch their own versions of the drug.
But that was before Turing CEO Martin Shkreli decided to nominate himself for the position of internet's most hated man by turning Daraprim into a luxury good. Shkreli has tried to defend the price change by touting the high percentage of profits his company invests into the research and development of new drugs. But Imprimis's announcement illustrates just how inflated Turing's price was — the competing company's CEO, Mark L. Baum, told the San Diego Tribune that pyrimethamine is so cheap, he can make a "significant profit" selling it for a buck a pop.
Imprimis said it intends to launch several other low-cost alternatives to specialty generic drugs.