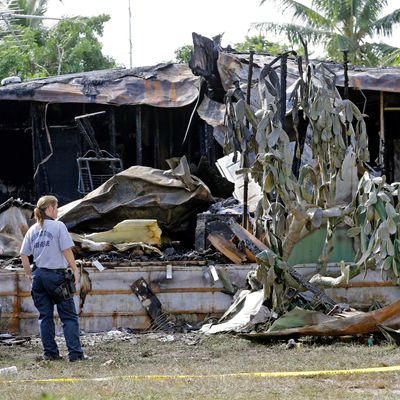 A rescue worker looks at a mobile home where a small plane crashed.
Photo: Alan Diaz/AP/Corbis
A small plane plunged into a mobile-home park in Palm Springs, Florida, killing the pilot and one person on the ground, investigators from the National Transportation Safety Board said Wednesday. 
The crash of the Cherokee 180 plane left a column of black smoke and two burning mobile homes in its wake, the Palm Beach Post reports. While the pilot has not been identified, the Post names 21-year-old Banny Galicia, a student at Palm Beach State College, as the other person killed in the accident. 
Her father, Domingo Galicia, heard the falling plane but only saw the flames it sent through the walls of his home. He said he was standing outside his trailer at the moment of impact and tried to get inside where his daughter was, but the doorway was blocked by fire.
"Banny! Banny! Come outside!" he recalled screaming. 
The aircraft struck down at the Mar-Mak Colony Club in Palm Springs, shortly before 6 p.m. Tuesday evening, according to ABC's local affiliate. The mobile-home park is home to a few dozen predominately Spanish-speaking households and features a drive-in movie theater, a wooded area, and strip malls, according to the channel.
Investigators have yet to determine the cause of the crash.