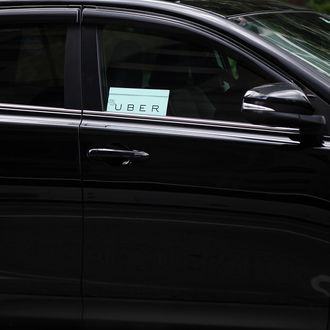 Photo: Spencer Platt/Getty Images
In the popularity contest between Uber and the city's iconic yellow taxi, millions of New Yorkers are pledging their allegiance to the upstart app.

Despite recent hits on its labor practices, business has been booming for the car-service app. In July, Uber took New York riders on an average of 100,000 trips per day, quadrupling last year's number, The Wall Street Journal reports. Yellow taxis averaged 410,000 trips per day in June — an 11 percent decrease from last year.
Critics of Uber, including Mayor Bill de Blasio, were worried that the empire-building app would increase congestion in the city. He tried to set a limit on for-hire cars in New York. Uber seems to have effectively replaced a percentage of cab use in busier parts of the city, according to data from the New York Taxi & Limousine Commission.
While Uber added more than 3.8 million passenger pickups in central Manhattan between April and June of this year over last year, taxi pickups decreased by roughly the same number, according to FiveThirtyEight, which obtained its own data set from the commission. All in all, the number of total pickups in Manhattan was pretty much the same as last year — 39.37 million in 2014 versus 39.36 million in 2015.
But both Uber and taxis are rapidly increasing total ridership in Brooklyn and Queens — unsurprising, given the number of young people with disposable income moving to both boroughs. Uber's gains there are much bigger, in part because these are areas where taxis have long been hard to find; the company gained in Staten Island and the Bronx while taxi use stayed flat. 
The real battle, however, is taking place within Manhattan. For each of the 51 taxi zones in the core of the island, Uber added pickups — and taxis lost them in an almost one-to-one ratio, FiveThirtyEight reports. Uber still has only 13 percent of Manhattan pickups, but that number is up from 4 percent last year.
In addition to increasing city ridership, the company thinks it can expand north, where there are fewer transportation options and drunk driving is a risk. Uber officials are hoping the New York State Legislature will pass new rules allowing it to expand to upstate college towns, the Times reports.
Meanwhile, Uber's latest billion-dollar fund-raising round reportedly values the company at $60 to $70 billion. It's not so long ago that analysts were arguing about whether it's worth $17 billion. The eye-popping numbers are based on two possibilities: Uber achieving monopoly or near-monopoly power globally, and Uber growing the total number of rides in all its markets. The company faces competition from similar services in America and around the world, but this first batch of New York data suggests that it may well be able to increase the amount of time we all spend in taxis.