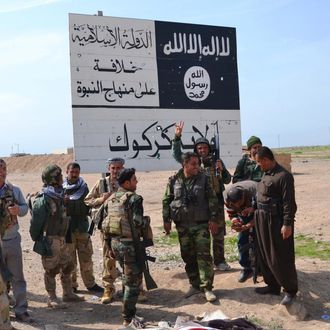 Photo: Marwan Ibrahim/AFP/Getty Images
United States Special Operations Forces and their Kurdish counterparts carried out a mission at an ISIS prison in Hawija, Iraq, Wednesday night. Pentagon press secretary Peter Cook told reporters that the commandos freed 70 prisoners facing "imminent mass execution." (Those freed are said to include Iraqi security forces and members of Kurdistan's military, known as peshmerga.) Cook said that five Islamic State militants were captured and that at least ten were killed. 
From the New York Times:
Iraqi officials said the raid involved American helicopters, Kurdish and American Special Operations forces, and airstrikes. … According to these accounts, American helicopters flew the commandos to the site.

Kurdish special forces were said to have been in the lead, but American commandos were also on the ground. American airstrikes were also carried out to cut the roads leading to the site.
Cook also confirmed that an American serviceman was killed during the operation.
This post has been updated throughout.