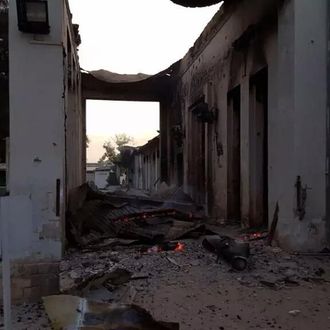 The Médecins Sans Frontières hospital in Kunduz, Afghanistan after being hit by airstrikes.
Photo: Médecins Sans Frontières/Twitter
American special-operations analysts knew the Afghan hospital that was attacked by a U.S. gunship on October 3 was a protected site before the attack took place, the Associated Press revealed on Thursday.
AP intelligence writer Ken Dilanian reports that the analysts had been monitoring the hospital outside Kunduz, operated by Médecins Sans Frontières (Doctors Without Borders), because they suspected that an agent of Pakistan's Inter-Services Intelligence directorate had been using it to coordinate Taliban activity.
Citing "a former intelligence official familiar with the material," Dilanian writes that the analysts' intelligence "suggested the hospital was being used as a Taliban command and control center and may have housed heavy weapons." Whether this intelligence was made available to the commanders who ordered the attack is not yet known.
After the attack, which killed at least ten patients and 12 staff members, some analysts concluded that it was justified as the Pakistani operative had been killed, the AP source added. No evidence has been made publicly available to substantiate that claim, nor would such evidence mollify MSF, which responded to the AP report by calling it further proof that the attack was premeditated and not a mistake, as the Pentagon has claimed.
The ISI is known to have had a hand in the Taliban's activities in Afghanistan for decades, and Afghan officials have accused the Pakistani intelligence agency of involvement in the Taliban's recent capture of Kunduz.
MSF has acknowledged that the hospital had treated wounded Taliban fighters, but Meinie Nicolai, president of the international organization's operational directorate, told the AP that none of the hospital's staff were Pakistani and that there was no reason to believe that any ISI agents were at the hospital.
The U.S. and Afghan governments, along with NATO, are investigating the attack, but MSF has cast doubt on the impartiality of these inquiries and launched a petition on Change.org on Thursday calling for President Obama to accept an independent international investigation.
MSF also cried foul on Thursday after members of the U.S.-Afghan-NATO investigative team entered the hospital site in a tank, saying in a statement that the investigators' "unannounced and forced entry damaged property, destroyed potential evidence and caused stress and fear."