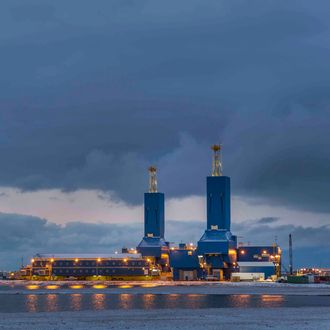 Photo: Patrick Endres / Design Pics
The Obama administration is suspending oil drilling in Alaska's Arctic waters for at least the next two years, and potentially longer. Interior Secretary Sally Jewell announced on Friday that petroleum lease sales scheduled for 2016 and 2017 in the Chukchi and Beaufort seas north of the Last Frontier would be canceled, the Associated Press reports.
Additionally, current leases held by companies such as Royal Dutch Shell and the Norwegian oil company Statoil will not be extended when they expire in the coming years, and these seas will be excluded from the Interior Department's next round of five-year lease sales.
While environmental groups are cheering the decision, the rationale Jewell gave for it was strictly economic: oil prices are currently too low to justify the expense and risk of drilling in the harsh conditions of the Alaskan waters. She cited Shell's recent decision to pull the plug on its offshore operations in the Alaskan Arctic after sinking $7 billion into exploratory drilling that failed to hit pay dirt.
Alaska's Republican-dominated Congressional delegation lashed out at the administration in response to the announcement; Sen. Dan Sullivan warned that suspending the drilling leases would hurt the state's already shaky economy and exacerbate its high rates of suicide, domestic violence, and alcohol and drug abuse. Alaska Rep. Don Young suggested the decision was illegal and that the state would fight the federal government over it in court.
The New York Times quoted Sen. Lisa Murkowski as calling the move "stunning, shortsighted," and "the latest in a destructive pattern of hostility" by the Obama administration toward Alaska's energy industry.