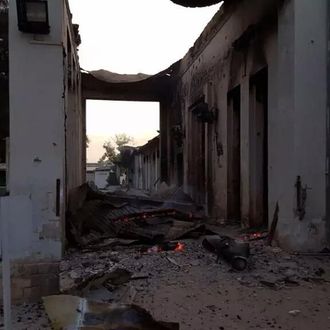 Photo: Médecins Sans Frontières/Twitter
The Associated Press has obtained new details on what led to the United States' bombing of a Doctors Without Borders hospital in Kunduz, Afghanistan. (Thirty people have now died as a result of the attack.) The wire service had previously reported that American intelligence analysts knew the facility was "a protected medical site," though it was unclear if the soldiers on the ground had that information. Now the AP reports that "the Army Green Berets who requested the Oct. 3 airstrike on the Doctors without Borders trauma center … were aware it was a functioning hospital but believed it was under Taliban control." 
From the AP:
A day before an American AC-130 gunship attacked the hospital, a senior officer in the Green Beret unit wrote in a report that U.S. forces had discussed the hospital with the country director of the medical charity group, presumably in Kabul, according to two people who have seen the document.

Separately, in the days before the attack, "an official in Washington" asked Doctors without Borders "whether our hospital had a large group of Taliban fighters in it," spokesman Tim Shenk said in an email. "We replied that this was not the case. We also stated that we were very clear with both sides to the conflict about the need to respect medical structures."

"MSF report that they have personnel in the trauma center," the Oct. 2 report by a senior Green Beret officer from 3rd Special Forces Group said, according to two people who have seen it…The report adds that the trauma center was under the control of insurgents, said the sources, who would not be quoted by name because they were not authorized to discuss it publicly.

The coordinates of the hospital were sent to "all friendly forces," the report said, noting that among the U.S. objectives for the next day was to "clear the trauma center" of enemy forces.
Doctors Without Borders (also known as Médecins Sans Frontières, or MSF) has always strongly denied that the Taliban was operating in the hospital. The organization has also denied that anyone was firing from the facility, as at least one American officer — and, initially, Pentagon officials — claimed. Either way, as the AP notes: "Even if the U.S. believed the Taliban were operating from the hospital, the presence of wounded patients inside would have made an air attack on it problematic under standard American rules of engagement and the international law of war."
The incident is now the subject of three investigations by the American and Afghan governments. MSF continues to call for an independent investigation by the International Humanitarian Fact-Finding Commission, which was formed under the Geneva Conventions.