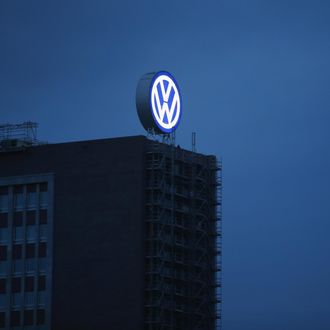 Photo: Sean Gallup/Getty Images
Volkswagen has reported its first quarterly loss in at least 15 years. The car company announced last month that it planned on setting aside nearly $7 billion to help cover the cost of an emissions scandal, which is why this dismal report shocked exactly no one. 
VW's third-quarter loss totals nearly 3.5 billion euros; the company also expects its operating profit to drop "well below" last year's 12.7 billion euros. Sales still went up by about 5 percent — but mostly thanks to Volkswagen's other brands: the not-so-tarnished Audi, Bentley, and Porsche.
Earlier this year, VW had finally overtaken Toyota in the number of cars it sold. In the wake of the emissions scandal, the latest sales figures show Toyota has unsurprisingly regained the lead.
The news comes six weeks after the carmaker was caught using illegal software to pass U.S. diesel-emissions tests as part of the largest business scandal in VW history. As a result, the celebrated German manufacturer's squeaky-clean image was tarnished, its CEO ousted, and more than 11 million vehicles left to be fixed.