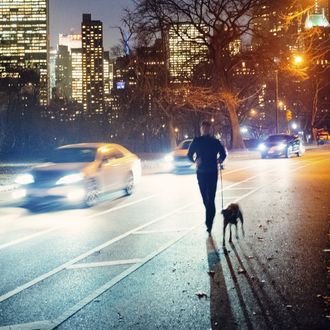 Photo: ferrantraite/Getty Images
At around eleven o'clock Tuesday night, David Burke decided to let his black Lab, Duke, run off-leash in Central Park. The rescue dog sprinted off happily. By the time Burke caught up with him — near the park entrance at West 110th Street — Duke was near death, bleeding from his head while sliding down a grassy embankment, police told the New York Daily News.
Burke, 55, called 911 in a panic, believing his dog had been shot, according to the New York Post. When police arrived on the scene, Burke was seated on a park bench, Duke lying on his lap. The dog was pronounced dead at the scene.
Police said that Duke's injuries did not appear consistent with that of a gunshot wound. The Daily News reported that the dog had a "deep gash to his head and a wound under his right eye."
The Post reports that Burke told police that he had not seen anyone else in the park in the moments before his terrible discovery.
The ASPCA will conduct a necropsy on Duke on Wednesday.
Dogs are allowed to run free in the park from 6 a.m. to 9 a.m. and from 9 p.m. to 1 a.m., when the park closes.