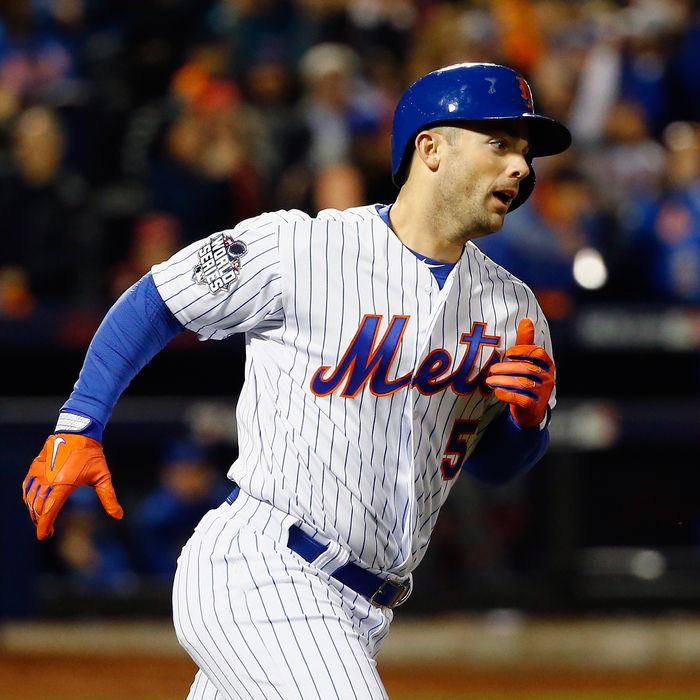 David Wright of the New York Mets rounds the bases after hitting a two run home run in the first inning against the Kansas City Royals during Game Three of the 2015 World Series.
Photo: Al Bello/Getty Images
After every World Series game, brothers and resident New York Mets nuts Benjamin Wallace-Wells and David Wallace-Wells will be chewing over what happened — in this case, an early-inning see-saw eventually tipping pretty dramatically for the Mets.
Benjamin Wallace-Wells: Take that, spinal stenosis!
David Wallace-Wells: I still don't trust David Wright. But those would be a very satisfying final two hits of a career. More importantly, Mets have life! The bats broke their way at long last. And we got a proper villain! Could it be that every team has an asshole as vocal as Mike Moustakas, screaming nonstop at the opposing pitcher all game, and Fox just chose to follow this one around the dugout all game?
BWW: Probably so! Maybe Syndergaard is ours — starting the game by throwing right at Escobar's head. But usually they slide under the radar. The sport, at least the televised version, seems to have less need for villains than football or basketball — baseball has plenty of unpleasant personalities, but few designated heels.
DWW: It's a kind of pattern for Moustakas, I guess, though Eric Simon of better-than-Metsblog-Mets-blog Amazin Avenue attributed the outbursts to bad spanakopita.
BWW: Remember a couple of years ago, when MLB held a vote-in contest to determine the "Face of Baseball" and David Wright won? I've never been a real Wright partisan — there is a high quotient of dutiful dullness; I was always on Team Reyes, with you — but that gorgeous, arching home run he hit last night felt appropriate, correct. You mentioned after Game 1 that Mets fans have not suffered nearly so much as they often complain, which in the scope of a fan's lifetime is true. But the course of a player's career is shorter, and Wright, an incredibly gifted one, was drafted by the Mets shortly before they began a decade of organizational incompetence and duplicity so extreme it must be a B-school case study some where. And through this long decade — when Wright watched what had been early in his career a promising and well-resourced team wither around him — he just endured. Wright has long possessed one of the great modern right handed swings—a scythe of a swing, fluid and balanced — but there has never seemed quite enough neon in his personality, or athletic violence in his game, to seem a likely Hall of Famer. He'll probably top out just below. There is a dark joke in the Mets finally becoming good now, but it isn't being played on the fans, who get to appreciate the success, or Fred Wilpon (more exactly resembling Montgomery Burns with each passing year) who will, absurdly, get some credit for it. The joke is at Wright's expense, because the team around him is finally getting good as his body is giving out, when he needs five hours of preparatory stretching to limber up for the game. He is not yet 33, but this postseason, struggling to get his bat around on even mediocre fastballs, he has looked far older. I think this is why Wright is so popular among the fans, because his endurance mirrors theirs. That huge, spontaneous roar when he homered in the first inning last night was very deeply earned. 
It's hard to imagine, given how he's looked for the rest of the postseason, that Wright will earn another one. But the rest of the lineup looked good last night, like there might be more to come. (It was fitting, too, that Curtis Granderson, the under appreciated veteran who has been the team's best position player this year, got his own home run ovation last night, for the blast that finally gave the Mets the lead.) Despite the dark atmosphere of the team's trip back to New York after Game 2, the Series so far has been almost perfectly balanced – one game the Royals won by six runs, one the Mets won by six runs, and another that took fourteen innings to resolve. The Royals bullpen looks less intimidating than it did at the outset, now that the Mets have twice scored off Kelvin Herrera, and last night finally Syndergaard induced them to miss some bats. Tonight the Mets probably have a slight pitching advantage again, thanks to Long Island's own Steven Matz, in what will be his ninth major league start. Am I deluding myself, or are you feeling a little optimistic now too?
DWW: This time of year, every fan is superstitious, as showed when so many of them last night passed around on Twitter the fact that, for the Mets, the 2015 World Series is playing out exactly like the 1986 one: a loss by one, followed by a loss by six, followed by a win by six. And — forgetting for a second the fact about that game six everybody forgets, that the Mets had already tied the game on passed balls when Bill Buckner croquet-wicketed Mookie's slap to first (even mad genius Keith Hernandez forgets it, I think, recently saying on air he was dejectedly drinking a beer in the clubhouse when that ball got booted) — it's not so hard for me to imagine this series turning on a botched ground ball, either, because, well, the fundamental baseball in these three games has been awful. There was Franklin Morales completely botching that comebacker, for starters, but also Wilmer Flores botching a throw while literally mid-bubble blow (did you catch that on replay? It was amazing) intended to land somewhere in the vicinity of Noah Syndergaard and Lucas Duda, who were busy bumping into each other far from first-base. In another inning, Syndergaard made that bare-handed stab at a dribbling grounder only to miss by about two feet. Maybe bend for that one, dude?
Not to take anything anyway from Thor. He was incredible. Like everyone spending the World Series in a chip-on-your-shoulder Queens of the mind (by the way, have we talked about the origin of that phrase? It's amazing) I loved the first pitch to Escobar, but unlike most of them, I also thought he pitched really well those first couple innings — just a victim again of crummy luck. (And that 100-mph pitch at Zobrist's knees was obviously a strike, you fucking ump!) Then he broke out his slider, which at least as recently as midseason he wasn't even willing to acknowledge he had in his arsenal. Last night it became his best pitch — I mean, Christ, it meant he could actually strike a couple of guys out! He used it to close out the sixth, after Collins kind of boldly left him in with the bases loaded in what was obviously Syndergaard's last inning (it's interesting that, of all the starters, Terry seems to have the most confidence in this one, though I can't say I disagree). 
BWW: Me neither.
DWW: After that, the game got pretty boring — so boring we got a glimpse of Kirk Niuewenhuis, who one of the guys I was watching with insisted was by far the best-looking guy on the Mets. He struck out, of course; striking out is sort of at the top of his resume. But he did look a little better than Raul A. Mondesi, one of two sons of former rookie-of-the-year Raul Mondesi named Raul Mondesi — not sure I understand why Ned Yost would run a guy like that out there to make his debut, though truth be told I was rooting hard last series for Matt Reynolds to get into a game at some point. With him booted off the roster this round, do you realize that technically Juan Uribe is now our back-up shortstop? Of course at this point I'm convinced like all Mets fans that Uribe is Superman, but it's more the George Reeves version, where you're not sure whether what you're seeing is actually impressive muscle or just girth.
Did game 3 turn the series? The old baseball saw is that momentum is your next day's pitcher, and the Royals' pitcher tonight is ancient Chris Young — I think there are two of them, and I confess I don't know which one this is, but maybe both of them were previously botched low-cost Sandy Alderson signings who couldn't even stick in a Mets rotation led by men like Dillon Gee? Personally I feel mostly like I have all series — that these teams are evenly matched it's all coming down to luck and broken-bat singles. On the other hand, that Ted Cruz sign that kept popping up in the $10,000 seats behind home plate can't be a good omen.