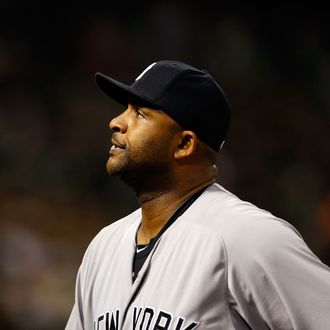 CC Sabathia.
Photo: Ezra Shaw/Getty Images
CC Sabathia stunned not just fans but those within the Yankees organization when he announced Monday that he was entering an alcohol rehabilitation facility on the eve of the team's Wild Card playoff game against Houston. Multiple reports today shed some light on what may have happened in recent days to prompt that decision.
The New York Post, citing unnamed sources, describes a "weekend bender" during the team's trip to Baltimore to close out the regular season. "His drinking got really bad this weekend, and it put him in a really bad place," said what the paper describes as a source close to the team. "He was afraid. He felt that if I don't do this now and go into rehab, I don't know what is going to happen."
The source also told the paper that Sabathia "drank every day last week apart from the day he pitched." That day would have been Thursday, when Sabathia started the game in which the Yankees clinched a playoff berth (setting off a clubhouse celebration in which the team sprayed beer and Champagne on each other). After that game, the Yankees traveled from New York to Baltimore. Via the Post:
The last straw for Sabathia came during the team's final regular-season series in Baltimore, where he spent most of his time pounding drinks at a hotel, the source said.

Sabathia, 35, arrived there with his teammates late Thursday after his home victory against the Red Sox clinched a playoff spot for the Yankees.
The Post's source says Sabathia looked "out of it" while the team waited in the clubhouse during a rain delay Friday that eventually postponed the game until Saturday. ESPN's Wallace Matthews describes the scene in the clubhouse that night:
After the Yankees' game with the Baltimore Orioles was rained out on Friday afternoon, Sabathia was seen by reporters walking unsteadily as he left the Yankees' clubhouse. The normally affable pitcher also failed to respond to the greetings of reporters who have known him for a long time.

A short time later, an onlooker noticed Sabathia offering a paper cup containing a brown liquid to a teammate who was finishing up a workout, urging the teammate to "take a sip." The teammate refused, saying he still had some running to do. Sabathia was then ushered out of the building and into a waiting cab by a third teammate.
"The tipping point was Friday when he was at the stadium," said the Post's source. "He carried on drinking Saturday."
The Post article notes that Sabathia is "not regarded as a big drinker," but was the "the team's celebratory booze wrangler," arranging for Champagne to be delivered for the clubhouse celebration last week, as well as for Alex Rodriguez's 3,000th hit.