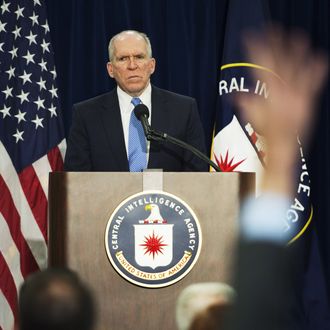 Photo: Jim Watson/AFP/Getty Images
The current offering of documents from CIA director John Brennan's AOL email account that were posted to WikiLeaks could be useful for more prank calls, but they are otherwise rather mundane for a master spook.
Nine documents have been released, all of which date back to 2007 and 2008, long before Brennan replaced David Petraeus as head of the CIA. They include a position paper on Iran, a draft document on the U.S. intelligence community that advocates that the CIA director be given a longer term in office, and a list of everyone Brennan had ever emailed.  
Nope, no Ashley Madison account, but he once contacted customer service at 1800flowers.com.
There is also a letter from the vice-chairman of the Senate Intelligence Committee on some of the "interrogation techniques" Brennan would go on to doggedly defend, but it does not reveal anything that hasn't already been published in more generous and rather damning detail.  
In a statement, the CIA said, "The private electronic holdings of the Brennan family were plundered with malicious intent. This is an attack that could happen to anyone and should be condemned, not promoted." The organization has confirmed that there is "no indication" that any classified material has been released.

The most interesting bits of information come out of Brennan's unfinished security-clearance application from 2008. It includes his personal phone number and numbers for other high-ranking intelligence and national-security officials. It is now possible (although, probably not for much longer) to call former CIA director George Tenet and ask him if his refrigerator is running, or sign up for a few credit cards using the Social Security numbers for Brennan and his wife.
WikiLeaks has vowed to release what will likely be even more tedious personal information in the coming days.
Maybe they'll be as exciting as Hillary's!