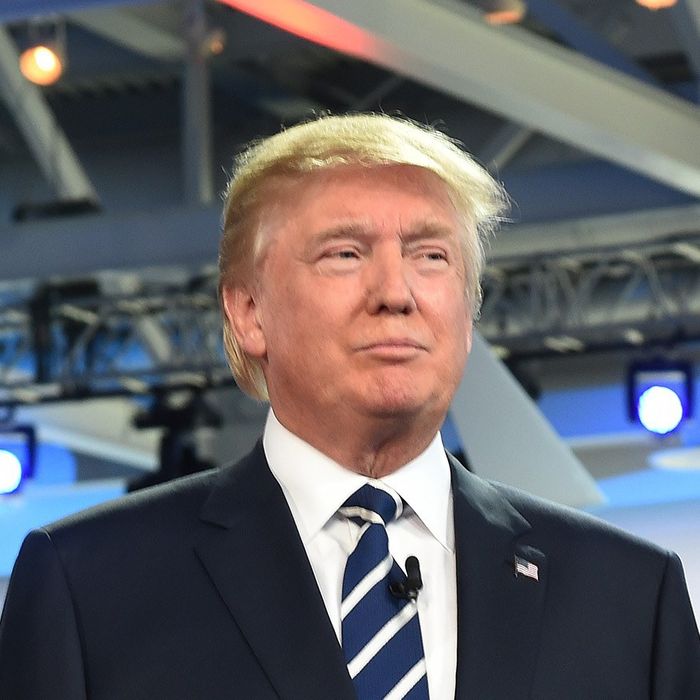 Ben Carson, Donald Trump, and Jeb Bush at the second GOP debate.
Photo: Robyn Beck/AFP/Getty Images
The first Democratic debate was more entertaining than expected, considering the dearth of Donald Trump, but on Wednesday night the GOP debate circus is rolling through town once again. As CNBC debate moderator Becky Quick noted, there have been 441 questions in the presidential debates so far, but "not one of them was about the debt ceiling." The network intends to make up for that on Wednesday night; the debate is subtitled "Your Money, Your Vote," and will focus mainly on "job growth, taxes, technology, retirement and the health of our national economy." The event will air opposite Game 2 of the World Series, but can a baseball game really compete with the excitement of ten politicians standing on stage and discussing the economy for two hours? We think not. Here's a guide to get you up to speed, and be sure to tune in tonight for Daily Intelligencer's liveblog and complete debate coverage.
When and where is the debate being held?
Wednesday, October 28, at 8 p.m. ET (5 p.m. local time), at the University of Colorado in Boulder. We know it will only be two hours long because Donald Trump and Ben Carson sent CNBC a letter saying they wouldn't participate "if it is longer than 120 minutes, including commercials, and does not include opening and closing statements."
They weren't the only Republicans who were unhappy with CNN's three-hour debate, in which many of the candidates looked like they were melting by the end. The campaigns were also united in their call for opening and closing remarks. "People realized we got the short end of the stick when the Democrats had a 2 minute opening and a 90 second closing [during their debate], so they had three and a half minutes to a 15 million person audience of an infomercial," a campaign source told the Hill. "They get a commercial, we get The Hunger Games."
CNBC ultimately agreed to Trump and Carson's terms: a two-hour debate, with commercial breaks, 30-second closing statements, and an open-ended opening question that will go to each candidate.
How can I watch it?
If you don't get CNBC, your only option is to listen on Westwood One radio or SiriusXM satellite-radio channel 112. While CNN made the debate available to everyone online, users will need a cable login to access the livestream on CNBC.com or the network's mobile apps.
There is a shady way to access the debate without resorting to an illegal stream. Bustle notes that you can sign up for CNBC Pro, then cancel before the seven-day trial period is up (if not you'll be charged $29.99 per month).
Who will be there?
The same lineup as last time, minus Scott Walker: Donald Trump, Ben Carson, Marco Rubio, Jeb Bush, Carly Fiorina, Ted Cruz, Mike Huckabee, Chris Christie, John Kasich, and Rand Paul. The cutoff was an average of 3 percent in several recent polls, and CNBC promised to round up averages above 2.5 percent. Christie, Kasich, and Paul came in at exactly 3.0 percent, so it looks like they barely qualified. Since Rubio has moved ahead of Bush in the polls, he now has the honor of standing next to Trump.
What about the other candidates?
There will be a JV debate at 6 p.m. ET featuring Rick Santorum, Bobby Jindal, George Pataki, and Lindsey Graham. Former Virginia senator Jim Gilmore fell below the one percent threshold, so once again, he won't appear on the debate stage.
Jindal threatened to pull out, arguing that if CNBC focused on polls in early primary states he'd be on the main stage (he's polling better in Iowa than he is nationally). Asked why he decided to participate anyway, Jindal press secretary Shannon Dirmann said, "We just thought about it and he's always been ready to debate at any time."
What does the stage look like?
Pretty typical. Apparently CNBC could not find any presidential memorabilia for the candidates to stand in front of.
Who's moderating?
Carl Quintanilla, co-anchor of "Squawk on the Street," Becky Quick, co-anchor of "Squawk Box," and John Harwood, CNBC's chief Washington correspondent (the moderator involved in Rick Perry's infamous "oops" moment). CNBC's Jim Cramer, Sharon Epperson, and Rick Santelli will also ask a few questions.
Will there be a lot of fighting this time?
Unlike last time, that's not the moderator's goal, but probably. Trump has been sniping at Carson since polls this week showed the doctor in the lead nationally for the first time in months, and leading by double digits in Iowa. Bush needs to conjure up a stellar performance to convince voters and donors that his campaign isn't in a "death spiral." Lately he's taken to attacking Rubio, who's claimed his spot as the establishment favorite, so it's likely he'll try to paint the senator as "GOP Obama."
How are the candidates preparing?
Some are spending time with family:
Some are enjoying nature:
And others are indulging in fine, all-American cuisine: