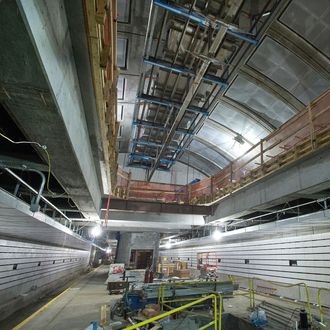 The Upper East Side wins. Harlem waits.
Photo: Patrick Cashin/MTA
When the final details of the MTA budget came out at the MTA board meeting on Wednesday, the funding for the Second Avenue subway suffered an unexpected 67 percent cut, from $1.5 billion to $500 million. So, does this mean it'll never arrive? Well, it does mean they only have the money to cover the finishing touches to Phase I of the project between East 63rd and 96th Streets, which is still on track to open late next year. 
The MTA won't be able to begin work on Phase II — set to serve Harlem between 96th and 125th Streets — until 2020.
"It is outrageous and screams of inequality," said State Assembly member Robert Rodriguez, of East Harlem, regarding the cuts.  
So, what about the other huge, late, way-over-budget project, East Side Access?
It also took a hit in the MTA's revised capital plan. Long Island Railroad trains won't likely stop at this new cavern deep under Grand Central until 2023.  
But at least the long-delayed 7 train stop is open at Hudson Yards.