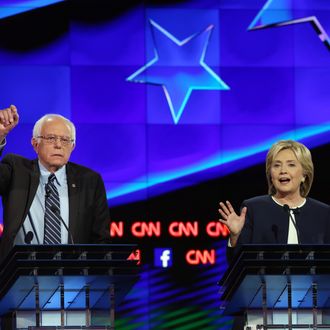 These two candidates keep raking in the dough.
Photo: Joe Raedle/Getty Images
Presidential candidates had to send the latest information on their fund-raising prowess — or lack thereof — to the Federal Election Committee by midnight on Thursday. Here's what the latest data reveals, at least as far as the campaigns' coffers are concerned. 
1. Hillary Clinton is still raising more money than everyone else — although Bernie Sanders is not far behind.
The former secretary of State has raised nearly $30 million in the past three months and has $33 million on hand. However, she's also spent a lot of money — she's raised more than $77 million since the start of her campaign. Her campaign says that 60 percent of her donations came from women.
Bernie Sanders raised just over $27 million this fund-raising quarter — from 600,000 donors who gave an average of $30. Only 270 donors have given the maximum $2,700 — which means that his campaign is going to be able to keep going back to these donors in the future, a useful thing to have when you're facing a possibly long primary. 
Sanders has been pretty picky about donations, too. One of the people who donated the maximum amount to the candidate was Martin Shkreli, the pharmaceutical executive receiving mountains of bad press for raising the price of a new drug designed to treat a rare infection by 4,000 percent. On Thursday, his campaign announced it would be rejecting the donation and giving it to a clinic instead. "We are not keeping the money from this poster boy for drug company greed," Sanders' spokesperson told the Boston Globe. Shkreli also wanted to meet with Sanders and was very unhappy when he was turned down. 
Sanders is also, unsurprisingly, spending far less money than Clinton. His campaign has spent about $11.3 million since July 1. While Clinton has been staffing up and running TV ads, Sanders's campaign has been slow to bulk up in primary states and has been focusing on much cheaper digital advertising.
In the weeks since the last date covered in the report, Sanders has continued to do well on the fund-raising front. In the hours after this week's debate, he raised more than a million off a fund-raising email inspired by his handshake with Clinton.
2. In comparison, Jeb Bush isn't doing so hot.
It's true that the former Florida governor raised more than everyone in his party besides Ben Carson, who raised more than $20 million this quarter. Bush raked in $13.4 million — but also spent about as much as he raised, much like Clinton. Unlike the Democratic front-runner, he didn't focus much on saving for the future; he has $10.3 million on hand — less than Carson and Ted Cruz, who raised $12.2 million this quarter. It isn't a doomsday scenario for Bush, but it definitely isn't impressive enough for him to deserve the front-runner status bestowed upon him many months ago — especially since he's hovering in fourth or fifth place in the polls. The Bush campaign fund-raised like crazy during the months detailed in its latest report, too; according to the New York Times, he held around 58 fund-raisers.
Bush's campaign manager pointed out to Politico that the super-pac supporting Bush still has a lot of money to spend on advertising — but as the fate of Newt Gingrich and a few other candidates in 2012 showed, sometimes super-pacs can only prop up candidates who are running weak campaigns for a few months longer than they would have otherwise lasted, instead of ensuring a candidate's victory. We won't know how much Right to Rise PAC, or any of the other super-pacs, raised in the second part of 2015 until next year — that information may make the leading Democratic candidates look far less overpowering than they appear now. GOP candidates have relied on super-pacs far more heavily this cycle; Sanders doesn't even really have a super-pac. 
Regardless of how Bush's super-pac is faring, his supporters still aren't terribly impressed. One Bush fund-raiser told the Washington Post, "He can't buy his way back. The [poll] numbers are beginning to get hard.The candidate has to have a moment out there, and if that doesn't happen, I just don't know."
Marco Rubio's campaign has been bragging about how it now has more money in the bank than his Florida rival. Rubio raised just under $6 million, but he also only spent $4.6 million. Since Rubio and Bush come from a similar political background and are fighting over many of the same Establishment donors, the two are starting to get annoyed at each other. Based on Jeb Bush Jr.'s comments to New York University students on Thursday, things are bound to get worse as both keep fighting for the same place in the polls: "As a Floridian, I'm a little disappointed, because he's missing, like, 35 percent of his votes. And it's just, kind of, like, dude, you know, either drop out or do something, but we're paying you to do something, it ain't run for president."
As long as so many GOP candidates stay in the race, continuing to divvy up the pool of possible donations instead of winnowing it toward one candidate, it's going to be hard for any candidate to compete with Clinton or Sanders in a fund-raising contest. And the longer the donations continue to flow to a dozen different places, the harder it will be for anyone to catch up.
Carly Fiorina, buoyed by a few debate performances that wowed the GOP Establishment, raised even more: $6.8 million. Donald Trump, who hasn't been too worried about fund-raising, given his ever-inflating self-reported net worth, has been able to mostly finance his campaign this quarter through sales of his omnipresent trucker hats. 
Politico also notes that it looks like Bush has cut the salaries of some of its many employees, realizing that it might need to start being a bit more frugal since the primary competition is much more fierce than it appears Bush thought it would be. On the other hand, Mitt Romney also wasn't doing so hot at this point in 2012 — however, he also never reached the single digits in the polls.
3. Ben Carson is making mad money — for his campaign and himself.
As he has climbed to the top of the primary polls, now tied for the lead with Donald Trump is several surveys, Ben Carson has also been raising more and more money. His campaign made $20.8 million in the past three months. However, he only has about $11 million on hand, as the Carson campaign excels at spending money to raise money. According to The Wall Street Journal, Carson used $11 million of the $14 million he spent this quarter on … raising money. More than $2.5 million was spent on direct mail — an especially expensive way to raise campaign funds — and another $1.4 million was used on telemarketing. One of the super-pacs formed to support Ben Carson last year, the Draft Ben Carson Committee, also managed to wow observers by raising far more than anyone expected. It also spent most of its initial earnings on raising more money, just as the Carson campaign is doing now.
Carson is taking a bit of a mini 2016 vacation this month, planning few public campaign events so he can focus on raising even more money for his campaign — and himself. Like several candidates who were popular in the early stages on the 2012 campaign before flaming out and becoming frequent cable-news pundits — Michele Bachmann, Herman Cain, and Newt Gingrich — Carson is going on a book tour for One Nation: What We Can All Do to Save America's Future. The campaign says it definitely isn't a big deal that Carson, currently in second place in the polls, is trying to sell books and make money for himself while a campaign is going on. "Most of America would not know the difference between book tour and campaign because they're watching him on TV," one staffer told CBS News. He added to ABC News, "He's been on TV. I think Wednesday through Friday I got sick of looking at him on TV." Carson also has about 20 fund-raisers scheduled this month.
4. Unsurprisingly, Scott Walker and Rick Perry had no money when they quit.
Walker, who spent like someone who imagined a bright political future — one of his staffers even took a $102 Uber ride, Politico notes — had basically no money left when he bid adieu to his 2016 dreams, and owed about $161,000. He might have said that he was dropping out so the one true candidate would have the power to vanquish Donald Trump … but it looks like there were some extenuating circumstances. Perry was in the same boat. According to The Wall Street Journal, he raised less than $300,000 this quarter — and spent more than a million. By the time he dropped out, he hadn't paid his staffers in weeks. 
Everyone else in the race — the people everyone has to think a few minutes about before they remember these people are actually running — raised unimpressive amounts this quarter, too, making it likely that we will soon reach the Great Winnowing of the 2016 Race. Lincoln Chafee — who was asked by Wolf Blitzer this week, "So at what point will you drop out?" — came in last place, raising about $15,000.