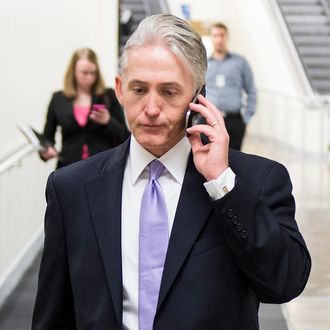 Photo: Bill Clark/CQ Roll Call
John Boehner's handpicked successor just quit the race for Speaker before a vote was even cast. Now that House Majority Leader Kevin McCarthy has been forced out by tea party hardliners, some Republicans are crying in the Capitol cloak room, while others search frantically for a new leader to unite them. Here's a list of Congress's possible saviors — a list that could radically change before the leadership elections considering how indecisive the party is being right now.
1. Representative Daniel Webster (R-Fla): This staunch social conservative from Orlando secured the endorsement of the House Freedom Caucus — a band of the House's most recalcitrant right-wingers — this morning, which likely went a long way toward derailing McCarthy's candidacy. But Webster may be blackballed by the party's Establishment for mounting a last-minute challenge against Boehner in last January's speaker election.
2. Representative Jason Chaffetz (R-UT): An expert ladder-climber, Chaffetz jumped from freshman back-bencher in 2008 to Chairman of the House Oversight and Government Reform Committee in 2014. He was also one of the first Republicans to demand an investigation into Benghazi.
3. Representative Trey Gowdy (R-SC): Launched into office by the 2010 tea party wave, Gowdy now heads the House Benghazi Committee. Conservatives are keen on him and keep leaking his name to the press as a possible candidate, but Gowdy has repeatedly insisted he has no interest in running.
4. Representative Paul Ryan (R-WI): Former vice-presidential candidate and CrossFit enthusiast, Ryan is known as a serious legislator who crafts serious budgets that invariably propose reducing the deficit by cutting taxes on the rich. Ryan says he has no interest in Boehner's awful job, but Boehner keeps begging him to take it. 
5. Representative Tom Cole (R-OK): A House veteran with over 10 years of experience, Cole leads a House Appropriations subcommittee on labor, and is close friends with Boehner. One anonymous GOP lawmaker told the Hill that Cole should run because he's seen as "a voice of reason" within the caucus. So, actually, you can probably take him off the list.
6. Someone Who Doesn't Want to Be House Speaker Forever (R-Preferably Someone Who Is Retiring): Georgia Representative Tom Price thinks that if House Republicans can't decide on a Speaker nominee, they should pick someone who would agree to only serve as an interim Speaker until the 2016 election.
"The best course would be for us to select a candidate for Speaker who will serve in that capacity for the next 15 months," he said in a statement. "This would allow the House to complete the business in a responsible manner, providing ample time for everyone's voices to be heard, leading into full leadership elections in November of 2016." According to Buzzfeed, Capitol Hill veterans Representatives John Kline, Hal Rogers, and Candice Miller were all floated as possible candidates. However, given the instability in the Republican Party, it seems highly probable that the next Speaker, regardless of who they are, would be a short-term fix anyway. 
The plan — like many of the other potential McCarthy replacement ideas — hasn't gotten much traction, leaving behind "Who Knows?" as the likely next House Speaker at this point.