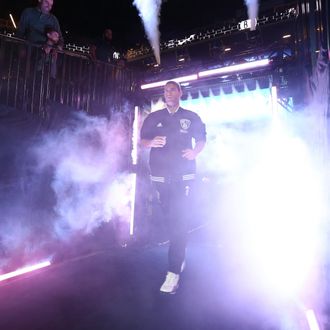 Photo: Nathaniel S. Butler/NBAE/Getty Images
Lowering expectations in a city like New York isn't something done easily. There's barely enough room for all of the aspiration and delusion swirling around the city, much less its self-regarding global brand of a borough, Brooklyn, even if its basketball team — in what promises to be a dismal year four of its relocation and reincarnation — doesn't quite live up to the self-esteem needs of its fans.
"Hello Brooklyn," "Are you Ready?" and "We Are Brooklyn" were the themes unfurled for the first three seasons. But this season's self-consciously "old-school" slogan, "Represent, Brooklyn," could be seen as one of managed expectations.
Opening night pitted the perennially injured, but scrappy, Chicago Bulls against a young, freshly assembled Nets squad. A silent tribute to slain NYPD officer Randolph Holder marked the first activity on Brooklyn's upgraded court, now garnished with subway-tile baselines. Fans soggy from a daylong downpour marched in during the memorial, packing the nosebleed 200 sections, leaving the costly inner bowl partially empty throughout the night.
Then the Bulls charged off to a 7–0 run in the first two minutes. The Nets missed their first four shots.
As the Bulls stomped out to a 30-point 1st quarter, you had to wonder, what would happen to Brooklyn fans when the sheen of anticipated greatness finally wore off?
"Eh, I don't listen to none of that," said Tony Taylor, 55, a lifetime "all-around New York sports fan," as he brushed aside my mention of one Vegas bookie predicting less than 26 wins for the Nets this year (the bookie ranked the guess second out of thirty,  in order of confidence). "Do they have heart?" Taylor countered. "After tonight, I'll know, and that's all I need to know." 
Some fans I spoke with had been through the team's final days in New Jersey, including that 12-win slog of 2009. They were grateful for the still-shiny Barclays Center. Proximity to greatness, or the idea of it, is good enough, wins or not. One such fan, Joe Spatola, 25, missed the Meadowlands days ("You couldn't beat it"), and he knows that the team is "finally at home," despite Spatola's theory that owner Mikhail Prokhorov is ready to sell the team. ("This is just an investment to him. He wants out.") Prokhorov's expensive indulgences have finally ceased. The goal of this "transitional year" might just be ending up below the luxury-tax line.  Contract extravagance is something the Russian petro-billionaire no longer wishes to humor.
Even if this season is terrible, Spatola reminded me, "You can't compare this team to the old Nets." He added, "Either way, [the move] made the brand better."
And a brand is what it is: Both Brooklyn and basketball are global concepts to be proud of. 
I asked the Nets' "most famous" fans, Mr. and Mrs. Whammy, or Bruce and Judy Resnick (if you happened to have caught them on the rare occasion over the past 20 years when they were not at a Nets game), if the negative predictions centered at the team's young, untested core had dimmed their outlook on the season. The team's average age is 25.7  "We don't believe what we hear," Mrs. Whammy said as she waved me off. "I love all everyone on this team, each player has a special place in my heart." 
Carrying a placard, Mr. Whammy asserted himself in bold marker, "The Brooklyn Nets are this year's Cinderella! We want rings!" Their optimism was genuine, and willfully naive, as all fandom is. Throughout the night, as Mr. Whammy attempted to shake the Bull's free-throw shooters, you could feel it clash, like a charged cloud, with the air of defeat already descending into the "ready-made monument." 
Brook Lopez is now the team's reluctant leader after Deron Williams's acrimonious buyout during the off-season. *Seven years with the franchise has made Lopez the franchise's most tenured member, the true center. His responsibility on the court to propel an idle offense and anchor the Nets' defensive schemes is gargantuan, and the challenges of leading the young locker room may prove to be astronomical for the introverted big man.
Lionel Hollins, when asked about Lopez's role as a leader, demurred, saying, "All I want for Brook is to be the best he can be on and off the court." 
As the game went on, up in the press box chuckles were rounded out with groans. "This is a disaster," one reporter said to no one in particular, an I-told-you-so to a group that already knew, out of earshot from a crowd that didn't want to know. A question from one reporter to Coach Hollins in the pre-game press conference hinted at the season-long struggle awaiting the team. It was a question about expectations, on behalf of fans in a city built on expectation. Hollins knew it was coming, too. "I just wanna say real quick, I get asked about my 'expectations' a lot. All I want is this team to play hard and play well." Looking out from under his NYPD ball-cap he added, "I don't expect anything."
At one point, late in the fourth quarter, dreadlocked game announcer David Diamante exhorted the crowd to do as the motto declared: Represent. It was a brief moment when the Nets were showing signs of life, cutting the game-long Chicago lead to five points. Diamante pleaded with the crowd to "Get on your feet and show them who we are!" Few paid attention to the cry. Those already on their feet were leaving Barclays's claustrophobic spaciousness and heading toward the trains.
* This post originally stated that Brook Lopez has been with the Nets for ten years.