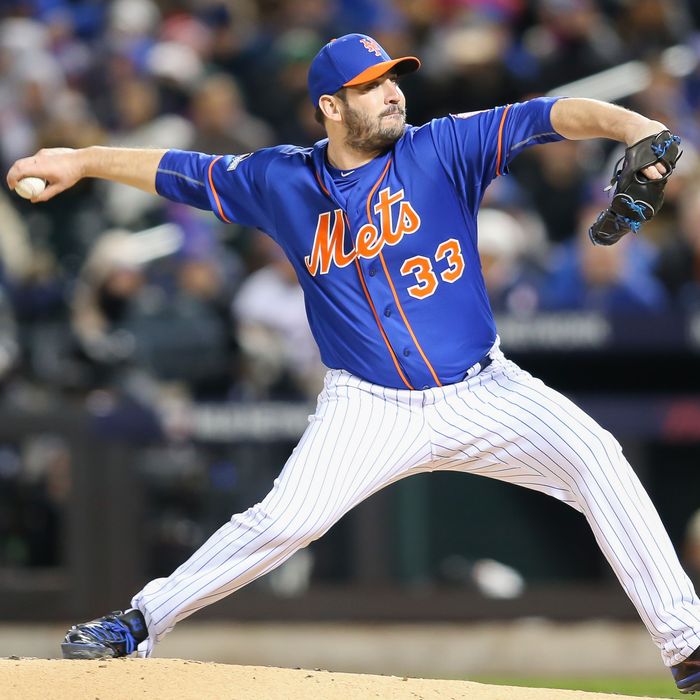 Matt Harvey.
Photo: Joshua Sarner/Icon Sportswire/Corbis
Game 1 of the World Series is scheduled for Tuesday night, and it's set to be the biggest Harvey Day yet. Righty Matt Harvey, who had a breakout year in 2013 and returned this year after missing a full season after Tommy John surgery, will pitch the biggest game of his young career when he faces the AL champion Royals in Kansas City. But even putting aside the very public fight over Harvey's innings limit heading into the playoffs, starting Harvey in the opener required changing up the order of the Mets' rotation. For the NLDS, Jacob deGrom was named the Game 1 starter, and he's since gone 3–0 in the postseason. So why the shift?
Harvey is the Mets' real ace and has been all along. It's worth remembering that the Mets didn't have the luxury of setting up their rotation however they wanted through the first two rounds. In the NLDS, they wanted to position Harvey so he'd make just one start in order to keep his much-discussed innings limit down. And the long series against Los Angeles helped dictate the rotation for the NLCS against the Cubs. But after five full days of rest — and with innings limits off the table with the team so close to a title — Terry Collins could shape his rotation however he wanted.
With all due respect to Noah Syndergaard — a hard-throwing rookie who's been excellent in the postseason — the choice for the Game 1 starter really came down to deGrom and Harvey. DeGrom had a slightly better season: He had a better ERA (2.54 versus 2.71), a better WHIP (0.979 versus 1.019), and a better strikeouts-per-nine-innings rate (9.7 versus 8.9). But their numbers are pretty comparable and pretty excellent in both cases. DeGrom's 4.7 WAR (or wins above replacement) was just a tick higher than Harvey's at 4.3.
In other words, Collins could be justified using either one in Game 1 of the World Series. According to the manager, he opted for Harvey in part because he'd only pitched once in each of the first two rounds and was in line to pitch next if the NLCS had gone to Game 5. And while deGrom has three wins in the postseason, he labored a bit in his last two outings, so Collins chose to give him an extra day off.
But even looking at the two pitchers on such a micro level leaves it pretty close to a toss-up. Yes, Harvey's most recent start was terrific, while deGrom didn't have his best stuff in his last two. But Harvey wasn't his best in his first start of the postseason, while deGrom totally dominated the Dodgers in the Mets' playoff opener. Overall, even if his last couple of starts haven't been perfectly smooth, deGrom's numbers in this postseason are a still a bit better than Harvey's. And considering deGrom hasn't pitched since October 20, one extra day of rest probably won't make much of a difference.
More than anything, with the Mets finally able to shape their rotation exactly as they want, the choice of Harvey likely signals that they still consider him their true ace. Even after Harvey missed all of 2014 (while deGrom burst onto the scene and won the Rookie of the Year award), Collins said as much before the season, when he opted to pitch Bartolo Colón on Opening Day: "That's no disrespect to Matt at all. He is our ace. We know it. He knows it. I told him that he's going to pitch a lot of big games this summer."
At times this summer (and even this October), some may have given that title to deGrom. But as the World Series gets under way, Harvey, who more than anyone is the face of the Mets' resurgence, has reclaimed his position at the top of their rotation.