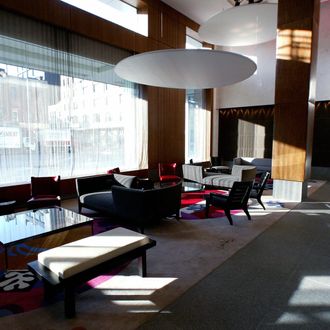 Photo: DON EMMERT/2004 AFP
Lisa Ruberto of Long Island was hanging out with a friend at the Gansevoort Hotel in the West Village last week when she misplaced her purse along with over $2,000 in cash. Understandably distraught, she did what any sensible person would do in that situation and called the cops.
But here's the thing: She didn't call the cops to report a missing purse.
Instead, the Daily News reports, Ruberto called 911 twice. The first time, she said she was involved in a family dispute; the second time, she told them she thought a bomb was going to go off in the hotel.
Why do such a thing? Well, as a source explained to the News, "She figured police would get there quicker if they thought there was a bomb there."
When the police responded to her call, she told them the bomb scare was phony and filed her missing handbag report. She was promptly arrested for reckless endangerment.
Ruberto's mother told the Daily News that her daughter was "a good girl" who "works three jobs" and "made a poor judgment."
According to her LinkedIn profile, Ruberto has a bachelor's degree from West Virginia University … in criminal justice.