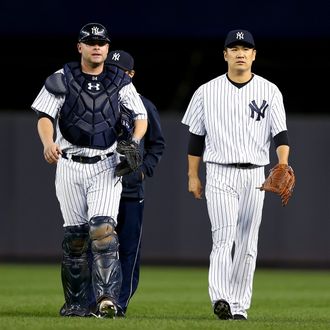 Masahiro Tanaka, prior to his start last night.
Photo: Elsa/Getty Images
The Yankees' magic number to clinch a Wild Card spot has dropped to one, but it could have fallen all the way to zero had they beaten the Red Sox last night — or in any of the games of their current series with Boston at Yankee Stadium, for that matter. But the Sox got to the Yankees' bullpen and won last night's game in 11 innings, and so even though the Yanks got some help inching closer to a playoff spot with losses by the Twins and Angels, they'll need to wait at least another day to clinch their place in next Tuesday's American League Wild Card game.
It had been clear for some time that the Yankees wouldn't win their division and guarantee themselves a spot in the ALDS, but it became officially impossible yesterday when the Blue Jays capped an incredible two-month run by winning their first A.L. East crown since 1993. Toronto general manager Alex Anthopoulos was especially psyched.
As for the Yankees, they've lost the first three games of their four-game series with Boston, and they've been generally pretty mediocre down the stretch: Since the Jays' surge began at the trade deadline, the Yankees went exactly 14-14 in both August and September.
The Yankees' immediate goal remains just getting into the playoffs, though they'll also be playing to hold onto home-field in that game: At the moment, they have a 2.5-game lead over Houston (who themselves have a half-game lead over the Angels). Masahiro Tanaka is the Yanks' likely starter in that one-game playoff, but last night he looked rusty in his first start in 12 days, allowing four earned runs in five innings of work.
The Yanks can again punch their ticket to the Wild Card game with a win tonight in their final meeting of the season with the Red Sox.