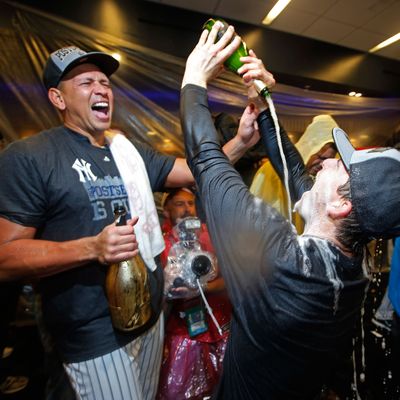 Alex Rodriguez and John Ryan Murphy celebrate last night.
Photo: Kathy Willens/AP/Corbis
The Yankees' win last night — the 10,000th in team history — guaranteed them to win one of the two American League Wild Cards and punched their ticket to the playoffs for the first time since 2012. Of course, the word "playoffs" comes with something of an asterisk: They'll have to survive a one-game playoff on Tuesday night in order to advance to the ALDS, the first proper series in the postseason bracket.
In any case, the Yanks sprayed champagne in the clubhouse afterwards, and when YES caught up with Alex Rodriguez, he talked about why clinching even a Wild Card was cause for celebration: "A lot of people asked me if we were going to celebrate today, and my answer was, Darn right we're going to celebrate. We've worked really hard [for] eight months to put us in a position to win a world championship, and we're here now, and it starts with step one."
Nothing against champagne celebrations — they look like fun! — but it's a uniquely baseball thing to celebrate every step of the postseason by spraying champagne and beer on each other. If the Yankees win the Wild Card game — a contest just four days away — they'll likely do it all over again. And they could have up to three more opportunities to celebrate beyond that, depending on how far they can advance. Then again, considering how often baseball players are scolded for celebrating a bit too much on the field during a game, maybe all the extra champagne showers are a fair trade-off.