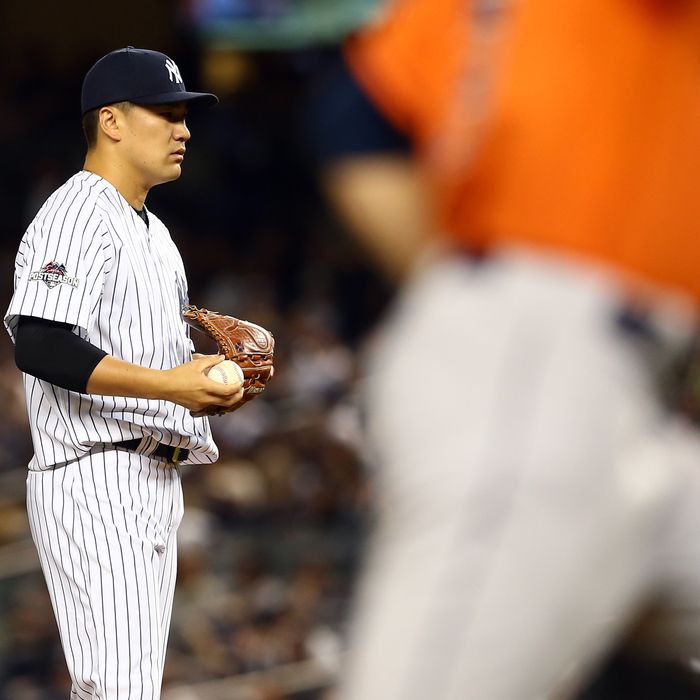 Masahiro Tanaka reacts as Colby Rasmus rounds the bases following his home run.
Photo: Elsa/2015 Getty Images
The Yankees' postseason is already over, some three hours after it began. In front of an amped-up crowd at Yankee Stadium, which was hosting its first postseason game since 2012, Cy Young candidate Dallas Keuchel shut down the New York offense for six innings, and the Astros bullpen did so for three, in a 3-0 Houston victory. The Yankees were held to just three hits on the night.
The Yankees' pitching wasn't really the problem Tuesday night. Starter Masahiro Tanaka allowed four hits and walked three over five innings of work, but he limited the damage to two runs, both via solo homer: Colby Rasmus leading off the second, and almost-Met Carlos Gomez leading off the fourth. Reliever Dellin Betances, who hasn't been as sharp late in the season, allowed a third Houston run in the seventh.
But the Yankees' bats were quiet all night. They managed no runs and just three hits against Keuchel, who struck out seven and at one point retired ten batters in a row. The Yankees managed even less against the Houston bullpen once Keuchel left the game: Three Astros relievers combined to throw three innings of no-hit balls.
Alex Rodriguez, whose postseason performance is perpetually under a microscope, went 0-for-4, and on Keuchel's last pitch of the night in the sixth, he flew out with two men on and the Yanks down 2-0. When A-Rod struck out for the second out of the ninth, he heard boos from the Yankee Stadium crowd. A-Rod wasn't the only Yankee who struggled at the plate in this one, though. Brett Gardner also went 0-for-4 and also heard boos. Actually, it's probably easier just to name the Yankees who did get hits: Carlos Beltrán, Greg Bird, and Didi Gregorius had one apiece.
A one-game playoff is often described as a coin flip, but a team with a dominant pitcher is better off in such a game than a team without one. And right now, Keuchel is dominant, while Tanaka isn't.
This is, of course, why baseball isn't usually meant to be played in one-game increments. With five starting pitchers in the average rotation, you can't determine the true quality of a baseball team with a sample size of one game. But that's not really what the Wild Card game is meant to do. It's meant to add excitement to September, by increasing the number of teams in the playoff hunt. It's meant to penalize the eventual Wild Card survivor, by messing with their rotation and taking away what would otherwise be off days. And more than anything, it's a made-for-TV event, designed to open the postseason with the equivalent of a do-or-die Game 7 in each league.
The Yankees, of course, don't have much depth in their rotation these days anyway, so they had little hope going forward even if they had managed a win in the Wild Card game. But Keuchel and his fellow Houston pitchers made sure they'd never get the chance to find out for sure.