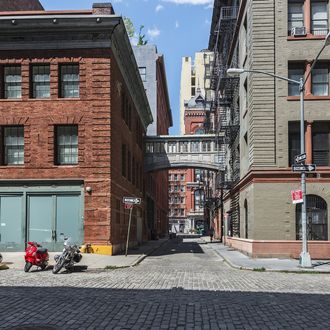 Photo: Courtesy of Nest Seekers International
There aren't many skybridges in the city, and the one across Staple Street in Tribeca is one of the most picturesque. And now you can own it: A 6,300-square-foot townhouse and 1,900-square-foot condo — joined by the bridge — are being listed as a $50 million package. The purchase is technically two separate ones: The condo is part of 67 Hudson Street, a former hospital. The smaller building housed the hospital's laundry, as well as its stables, which is why they were connected, according to The Wall Street Journal.
The units were first linked together by fashion designer Zoran Ladicorbic, of Zoran, a luxury minimalism pioneer in the 1990s who's faded into comparative obscurity. He used the townhouse as his primary work space. His morning "commute" would be the short walk from the condo, in which he lived, across the skybridge, to his atelier.
The stark minimal styles of the townhouse, with a rooftop terrace, are reflective of Zoran's design aesthetic. Cold, matte-black flooring maps the open, sunlit rooms.
Real-estate agent Kaptan Unugur, of Nest Seekers International, is handling the bizarre listing with a little help from Ryan Serhant, a star broker of Bravo's Million Dollar Listing New York.