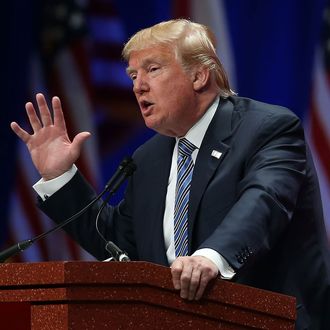 Photo: Joe Raedle/Getty Images
Donald Trump felt a lot of love from the 100 African-American Evangelical pastors he met with at Trump Tower on Monday.
"I saw love in that room. I see love everywhere I go," Trump told CNN.
Still, the pastors did not feel enough love for Trump to endorse him en masse in a post-meeting press conference, as was originally planned.
Trump's unofficial liaison to the black Evangelical community, Ohio pastor Darrell Scott, had initially secured endorsements from 40 fellow pastors, according to Politico and CBS News. But Monday's event was supposed to consist of two parts — a private meeting with the candidate, and then a public press conference at Trump Tower. For the private meeting, Scott had invited pastors from progressive churches who were interested in educating the billionaire mogul about the needs of their parishioners, but had no interest whatsoever in endorsing his candidacy. That distinction was lost on the campaign itself, which touted its "coalition of 100 African American Evangelical pastors," and put the names of progressive preachers on its poster for the event.
In recent weeks, Trump has praised his supporters for physically assaulting an African-American protester, and shared crime statistics prepared by neo-Nazis, which drastically exaggerated the rate at which African-Americans murder whites. So when many black churchgoers saw their pastor's name on Trump campaign posters, they were … not pleased. After days of being called an "Uncle Tom," and a "coon dancing with the devil," Brooklyn megachurch pastor Hezekiah Walker wrote a lengthy Instagram post, in which he explained that he'd only ever planned to enlighten Trump about the "injustice and racism that still plague our communities." One hundred other black religious leaders penned an open letter on Ebony magazine's website on Friday, calling on African-American pastors who were planning to endorse Trump to think twice before they "de-radicalize the Black prophetic political tradition."
Nonetheless, Trump told the Associated Press that he had received "many, many endorsements" after the meeting, though neither he nor Scott would provide a specific figure.
"Some committed. I don't know the number," Scott said. "The rest are praying about it. They said, 'We have to go pray about it.' They'll come back and endorse at a future time."
In an interview with CNN, Scott suggested that the African-American community owed Trump an apology for their vitriolic response to the news of the meeting.
"The African-American community needs to be ashamed of themselves of the way they've reacted to our meeting with Mr. Trump," Scott told the network. "They accused Mr. Trump of being an insulting individual but they've levied insults at us that I wouldn't levy against people I hate … They don't know the Donald Trump that we know."
But while Scott had critical words to say about the tone of Trump's critics, he evidently felt no need to police the tone of the Republican front-runner.
"The beautiful thing about the meeting is that they didn't really ask me to change the tone," Trump told the AP. "I think they really want to see victory, because ultimately it is about, we want to win and we want to win together."