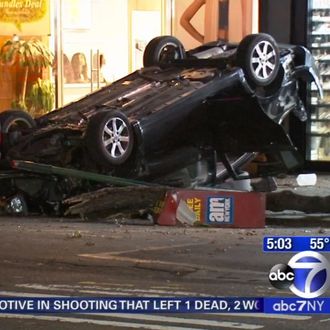 The car knocked over a tree and a bus pole before landing on top of a pedestrian.
Just before 5:30 p.m. on Monday, a vehicle fatally struck a pedestrian in New York City for the 12th time since October 31. A 50-year-old man was walking on the sidewalk in Flatbush when a black car flipped over the curb and landed on him. A 58-year-old man — who will not be charged for the pedestrian's death — was driving the car; he was accompanied by a 3-year-old boy. They were both taken to the hospital, as was a woman hit by debris. The car knocked over a tree, a newspaper box, and a bus pole as it flipped onto the sidewalk. "I feel so sad. Very upsetting. Hope I don't have to see this ever again," one witness told ABC7. 
Three pedestrians were killed last weekend. On Sunday, a taxi driver who had been driving for 16 hours straight hit an 88-year-old woman on the Upper West Side. A bus driver hit a 70-year-old woman in Bedford-Stuyvesant last week, and a charter bus killed an 84-year-old woman in Flushing. A 55-year-old woman was hit by a dump truck in Hunts Point.
On Friday, Mayor Bill de Blasio defended his plan to stop vehicle-related accidents in the city — Vision Zero — despite the especially bad past two weeks. Traffic fatalities are down compared to last year, and the NYPD is issuing far more speeding tickets, according to DNAinfo. The New York Post notes that crashes, on the other hand, have seen an uptick. 
However, he also acknowledged that the recent spate of deaths were not good. "The people we are losing are our grandparents, our parents, our children," he said, adding, "It has been a tough week … a very tough week. The stories have been painful, but we know there are real changes that have been made that are making a difference and changes that will continue to be made that will reduce the number of crashes and save more and more lives."
"Let's remember that for many, many years in this country," de Blasio said, "the car has been a little too sacred."
However, other state and local lawmakers say the mayor's plan to stop traffic deaths needs to get more expansive if it is going to ever come close to reducing deaths to zero — especially with jaywalking, according to NBC New York. The NYPD tried to fight jaywalking last year, but the war on one of New York's unconscious recreational activities quickly ended after some criticism.