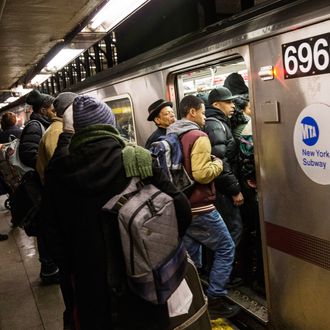 Expect delays.
Photo: Andrew Burton/Getty Images
We've all blamed "subway problems" for being late for work. But there's a way to prove it's not your fault if your boss is a hard-ass: The MTA has an official online delay-verification form. With work schedules becoming increasingly rigid, more and more New Yorkers are filing them every year.
The form involves a few simple questions about the subway line, entrance and exit times, as well as the length of the experienced delay. Last year's 129,000 requests (which is, by comparison, roughly the population of Columbia, South Carolina) was up more than 40 percent from 2013 when the MTA verified a mere 92,000 forms. In 2010, a mere 31,000 delay verifications were issued, according to information obtained by DNAinfo. So far in 2015, the MTA has received 109,000 verification requests.
Among the top five trains with the most delay-verification forms are the 4, 5, and 6 trains, which together had more than 54,420 verified notes from the MTA in 2014 (54,000 is roughly the population of Valdosta, Georgia). MTA spokesman Kevin Ortiz told DNAinfo that's because the 4, 5, and 6 trains are always the busiest, with an average of nearly 2 million passengers per day.
"Once phase one of the Second Avenue subway is done, that will shift 220,000 of those customers over," Ortiz told DNAinfo.
The New York State comptroller released a detailed audit in August on the subway's "on-time performance" that showed that the subway's "on-time performance" — a train is "on time" if it reaches the end station within five minutes of its scheduled time — averaged 74 percent on weekdays last year, down from a little more than 80 percent in 2013. Overall, the subways recorded nearly 500,000 delays.
Further build-out of that subway is delayed, however, by budget problems, with phase two not starting till 2020. The MTA approved a $29 billion plan to purchase new cars and fund infrastructure repairs and a communications system, and they hope to pass a budget amendment that would speed up the Second Avenue subway.