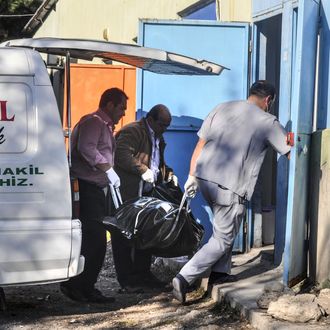 Officials carry the body of a migrant who drowned after a boat sank near Greece's Lesbos Island.
Photo: Mehmet Yavas/Anadolu Agency/Getty Images
A wooden boat carrying migrants bound for the Greek island of Lesbos sank Wednesday off the Turkish coast, drowning at least 14 people. At least seven of the dead were children. Authorities were able to rescue at least 27 people. Four more people were killed in a separate incident, farther south off Turkey, when another boat capsized. 
The latest disaster comes as more than 800,00 people have made the journey to Europe by sea this year, and nearly 3,500 have died in the attempt. The flash point of the crisis is Greece, where more than 540,000 people — many fleeing the war in Syria — have landed through October, with 150,000 arriving last month alone. But on Wednesday, more than 60 leaders from Europe and Africa are meeting in Malta for a summit in response to the flow of migrants from Africa, including those from Nigeria, Ethiopia, and Eritrea. The meeting was called in response to an April disaster, when as many as 800 migrants drowned crossing the Mediterranean.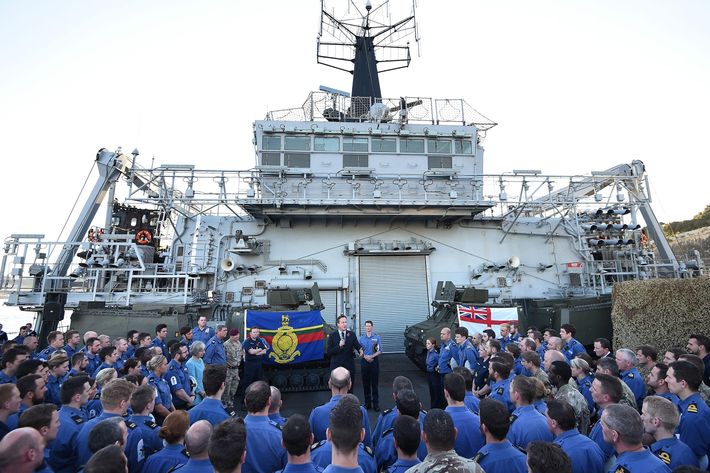 At the meeting, the European Commission will pledge 1.8 billion euros (about $2 billion) to African countries to tackle some of the economic and security problems that are causing migrants to decamp to Europe in the first place. The EU also wants to nudge African leaders to take back and resettle those ineligible for asylum in Europe.
Meanwhile, Slovenia has started erecting a razor-wire fence on parts of its 400-mile border with Croatia. Leaders did not specify its length, or which areas it would block off. Migrants and refugees began streaming into Slovenia from Croatia after Hungary put up barriers — first on its border with Serbia and then, last month, its border with Croatia — forcing those pushing northward to find an alternative route. The barbed wire along Slovenia's edges means the migrants and refugees will, once again, need to change up their trek. The Times reports that authorities are already eyeing Albania as the next likely travel route.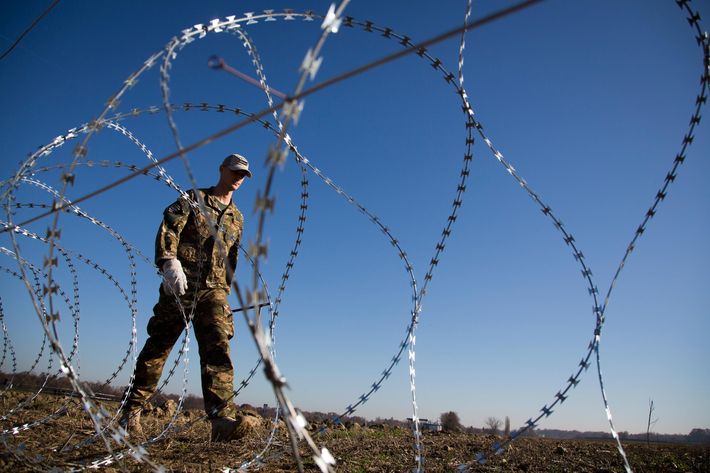 Germany, which expects more than 800,000 refugees — the most of any EU country — has caused some of this panic among its neighbors by waffling on its asylum stance. At first, Germany said it would welcome any Syrian refugees, effectively foregoing the Dublin Regulations, which normally require asylum-seekers to register in the EU country they enter. On Tuesday, Germany backtracked on that plan, saying it would return refugees to their first registration point, with the exception of Greece. Now countries such as Slovenia, which had been letting people cross its borders with the expectation that they could shuttle them onward, are scrambling to prepare in case Germany stops accepting new arrivals.