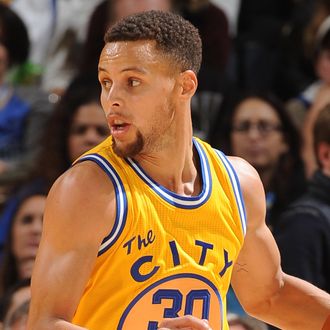 Stephen Curry, during a rare moment in a game when he's not making a three-pointer.
Photo: Noah Graham/Getty Images
The Golden State Warriors blew out the Lakers last night to improve to 16-0 on the season — the best start in NBA history. But their perfect record doesn't even do justice to how hot Stephen Curry & Co. are right now under interim coach Luke Walton, who's filling in as Steve Kerr recovers from complications from back surgery. Here, five incredible stats from Golden State's historic start.
1. They're not just winning; they're crushing opponents.
Their average margin of victory is 15.6 points. That's skewed somewhat by a 50-point rout of Memphis on November 2, but still, they won all but five games by double digits. They've outscored opponents by 250 points overall — the best point differential through 16 games since the 1996-97 Bulls, who went 15-1 over that span (with a +257 differential) a year after setting the record with 72 regular-season wins. 
2. Really, really crushing them.
Via ESPN, the Warriors have spent more time this season leading by more than 15 points (167 minutes) than they've spent trailing by any margin (149 minutes). Last night, they spent 38 minutes leading by at least 15 points — their most in any game over the last two seasons.
3. They're hitting a ton of threes.
The Warriors have made 199 threes, the most in league history through 16 games. Per the Elias Sports Bureau, Golden State is the second team in NBA history to make more threes than their opponent in each of their first 16 games of the season. (The other: the 2008-09 Knicks.)
4. Steph Curry, especially, is on a ridiculous three-pointer pace.
Curry already has the record for most three-point field goals in a season, with 286, set last year. (He's also second and fifth on the all-time list for threes in a season.) But a little less than a fifth of the way through the 2015-16 campaign, he's on pace to shatter that mark. After making four threes last night, he's on track to drain 399 of them this year. Via CBS Sports, he'd actually been on pace for more than 400 before last night. To put all this in perspective, at his current pace, he'd need just 59 games to break the record.
5. They're off to the best passing start in a long time.
The Warriors have recorded more assists (473) through 16 games than any team in the last 25 years. One game in particular stood out: On November 6, they recorded 28 assists on 30 baskets in the first half alone. To put that in context, entering last night's games, there were still nine teams that hadn't recorded that many assists in an entire game this season.