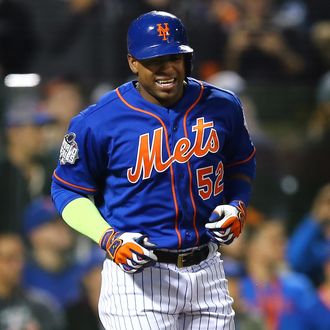 Yoenis Céspedes.
Photo: Elsa/Getty Images
The Mets may have fallen apart in the World Series, but they still won a division title and a National League pennant this year on the strength of some of the best young pitching in baseball. Which is to say: The future is bright, and they now face an important off-season in which Sandy Alderson will try to assemble the right pieces to complement all of those promising arms. There's quite a bit of uncertainty, however, about what they may or may not do before Opening Day. Here, five off-season questions for the Mets.
1. Can they afford to bring back Yoenis Céspedes?
Part of what made the trade for Céspedes so appealing at the time was that his contract was expiring, so it didn't require a large financial commitment beyond 2015. Céspedes proved how valuable he could be during the team's second-half surge, but many have wondered whether the team and its self-imposed financial constraints would be able to sign him to a long-term deal. It's an even more interesting question considering the extra revenue generated by their run to the World Series — even if there's no guarantee that money will be spent on payroll. Céspedes makes the Mets better with his bat and his defense — both areas of concern. But will the Wilpons be willing to spend significant money to address those needs? At the moment, it seems unlikely Céspedes will be back next year.
2. Do they even want Daniel Murphy to return?
Murphy transformed into Barry Bonds for a few weeks this October, but otherwise he's a solid offensive player who hits for average but doesn't have a lot of power, and he isn't very good in the field. (The baseball world got a good look at that last part during the World Series.) By the end of the Mets' postseason run, he'd already begun to return to Earth after his record-setting performance in the NLDS and NLCS. He'll get a raise when he signs his free-agent contract, but even if he doesn't go for superstar money, the Mets may let him walk, choosing instead to replace him with Wilmer Flores, prospect Dilson Herrera, or some other low-cost option. One report says the Mets have already made the call to let him walk.
3. Will the rotation show any effects from the long 2015 season?
This question comes directly from manager Terry Collins: "My concern is what they're going to be like when they show up at spring training. When are those arms going to bounce back?" Matt Harvey, Jacob deGrom, and Noah Syndergaard all topped their previous highs for innings thrown in a season — and Harvey's count was especially under a microscope over the final months of the season. The Mets will go as far as the rotation can take them, so they don't want any lingering effects as they prepare for 2016, when the rotation could be even better once Zack Wheeler returns from Tommy John surgery.
4. Is Michael Conforto ready for a full-time role?
The 22-year-old Conforto hit well after making his big-league debut on July 24, but Collins mostly used him against righties. But the Mets manager has said that Conforto won't be a platoon player forever, and so if the Mets are comfortable using him in an everyday role in 2016, it could relieve some of the pressure to acquire a bat from outside the organization this winter.
5. Who will be in the bullpen?
Jeurys Familia will surely be back as the team's closer, but the bridge to the ninth is up in the air. Tyler Clippard, not as trustworthy as he once was anyway, is a free agent. And in the postseason, lacking much relief depth, the Mets used starters Bartolo Colón and Jon Niese out of the bullpen. (Niese is under contract for 2015, but Colón is a free agent.) Meanwhile, Addison Reed, who made nine appearances in the postseason, could be a non-tender candidate, as he'll likely see his $4.875 million salary hiked in arbitration.