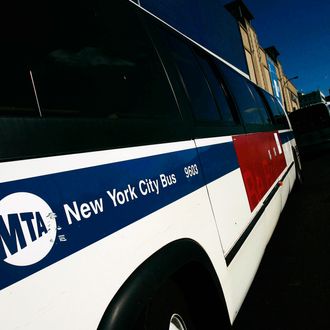 Photo: Chris Hondros/Getty Images
An elderly woman was killed by a bus in a hit-and-run in Brooklyn early Tuesday morning, the New York Daily News reports.
Carol Bell, who was 70 years old and using a wheeled walker, was crossing Fulton Street at Sackman Street in Bedford-Stuyvesant when an out-of-service bus struck her and kept driving.
"She was cut in half … definitely in half," Ramon Garcia told the Daily News. "I tried to help her but she was too bloody. There was a lot of blood."
Video surveillance of the crash shows the B15 bus plowing into Bell as she crossed the double yellow line in the middle of the street. The bus then stopped briefly before pulling around the victim and driving down the street, according to NBC New York.
The reported driver of the bus, Paul Roper, has worked for the MTA for 15 years and was arrested a few hours later for leaving the scene of the accident, per the Daily News. He has been suspended without pay while the MTA investigates the incident.