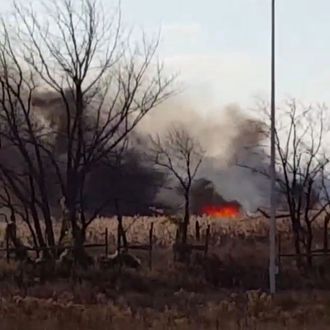 Photo: pixhelpmehoward/Instagram
A brush fire in Staten Island escalated to a five-alarm fire Friday, bringing nearly 200 firefighters to the scene to put out the blaze. Winds are whipping at speeds of about 20 miles per hour, which is creating a tough environment for the first responders. The FDNY believes the fire is now under control, but the windy conditions could still stir up sparks.
The fire ignited this afternoon, shortly after 1 p.m., in the Oakwood Beach section of the borough, about 100 yards from the intersection of Mill Road and Kissam Avenue. Black smoke from the burning brush — fueled by wind gusts — have apparently been spotted as far as Manhattan and Brooklyn. 
No injuries have been reported, and no buildings or structures have been damaged as the brush smoldered for nearly three hours.