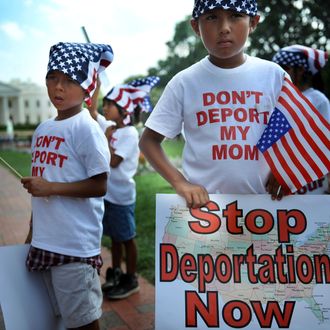 Hold that thought.
Photo: TIM SLOAN/2010 AFP
President Obama's plan to stop deporting the undocumented parents of American children will remain in legal limbo, after a federal appeals court ruled on Monday that he lacks the constitutional authority to issue the order.
Announced last November, Deferred Action for Parents of Americans would allow 5 million undocumented parents to access work permits, while directing immigration authorities to concentrate their resources on more dangerous individuals.
The order was blocked by a Federal District Court in Texas before it ever took effect. Now a three-judge panel of the United States Court of Appeals for the Fifth Circuit has ruled two to one against the Obama administration, arguing that the lawsuit filed against the measure by 26 states would likely succeed at trial. The states allege that deferred action on this scale requires an act of Congress, as it forces costs upon states with undocumented residents.
The Obama administration was not anticipating victory in the Fifth Circuit, according to the New York Times, as the court is skewed heavily towards Republican-appointed judges. The administration was less concerned with the court's ruling than how long it would take to be handed down – had the Fifth Court waited a little longer, the president would have been unable to file an appeal with the Supreme Court for next year. A 2016 showdown at the high court not only gives Obama a chance to enact his order before the end of his term, but would also put a spotlight on the partisan divide over immigration just months before November's general election.