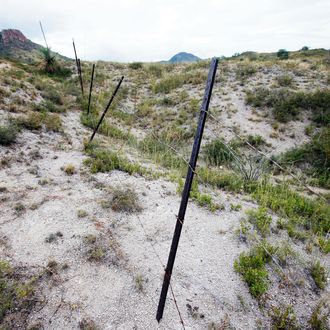 Photo: Ross D. Franklin/AP/Corbis
Arizona's attempt to privately fund a $50 million border fence has ended in failure. According to the Associated Press, the five-year campaign managed to draw in only a fraction of the donations the proposal required.
The initiative was launched in 2011, during the state's frenzy of anti-immigration legislation (see also: the contentious SB 1070 law, which made it easier for law enforcement to investigate an individual's citizenship). Republicans in the State Legislature were desperate for a way to finance more border fencing without the help of the Obama White House. And so they decided to raise the money themselves, setting up a website to do so.

Five years and one recall election later, the state raised a grand total of $265,000, and the Senate president who spearheaded the plan has left politics.

Sheriffs from various Arizona counties will now submit competing proposals for what to do with that money now that the initial vision of a 15-foot, 375-mile fence will have to wait until a Trump administration takes power and gets Mexico to pay for it.