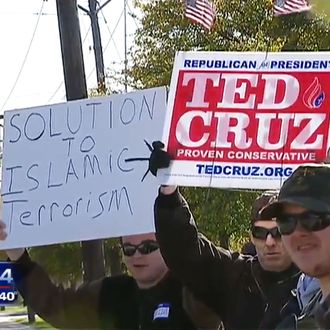 The "Bureau on American Islamic Relations."
Photo: Fox4 News
A dozen brave souls armed with nothing but an American flag, a Ted Cruz sign, and many large guns gathered outside a mosque in Irving, Texas, on Saturday to protest an illegal Sharia court that does not exist.
The protesters belonged to a group that calls itself the Bureau on American Islamic Relations, which aims to "Stop the Islamization of America," as one woman's hand-drawn sign implored.
Like a slim majority of the American people, the protesters said they opposed the resettlement of Syrian refugees in the United States, according to local station Fox 4. But what drew them and their guns to the mosque in Irving were concerns more local than geopolitical.
For months, Irving's tea-party mayor Beth Van Duyne has been vowing to defend her constituents against the mosque's "Shariah law court," suggesting the court may soon try to impose Islamic justice on local infidels.
"They shut the illegal court down," protester David Wright incorrectly told the Dallas Morning News. "And then, they threatened to kill the mayor."
In reality, the closest thing to a Sharia law court operating out of an Irving mosque is Dallas's Islamic Tribunal, an institution that offers mediation and arbitration services to Muslims engaged in civil or familial disputes. But the inflammatory rhetoric of one small-city mayor was enough to make a dozen people feel the need to arm themselves against the threat of a glorified Muslim marriage-counseling service.
"They're mostly for self-defense or protection," Wright told the Morning News, while eyeing his 12-gauge. "But I'm not going to lie. We do want to show force … It would be ridiculous to protest Islam without defending ourselves."
The worshippers followed the advice of local police and ignored the protesters, and the demonstration ended without incident only a couple of hours after it began. But one protester, who identified himself only as "Big Daddy Infidel," told the Morning News that he doubts this will be the end of their "conflict."
"You know, I hope 10 years from now, we just stood out here and froze to say what we wanted to say, and nothing ever came of it on either side," he told the paper. "I hope the supplies I have in my house, the food and the water and medical supplies, I have to use up in my retirement years. But … this stuff is among us. People are blind if they don't think it is."
Since the terrorist attacks in Paris, a mosque in Pflugerville, Texas, was vandalized with feces and ripped-up pages of the Quran; Southwest Airlines passengers in Philadelphia were forced to leave their plane for the crime of speaking Arabic; and a Texas man was arrested after posting pictures of firearms to Facebook and threatening to shoot up a mosque.
This is the second time in three months that baseless fears of Muslim violence have put Irving in national headlines. Back in September, a 14-year-old Muslim high-school student named Ahmed Mohamed had a reassembled clock mistaken for a time bomb by authorities at his school. Mohamed has since moved with his family to Qatar.