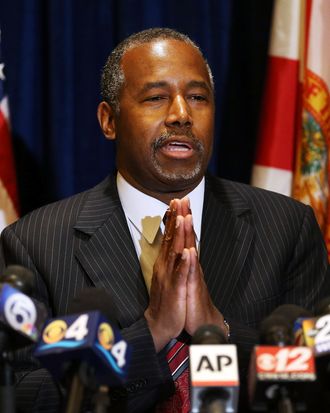 Photo: Joe Raedle/Getty Images
Just before pwning his n00b opponents in tonight's debate, Ben Carson is demonstrating his mastery of Facebook meme-creation with a series of … not entirely unfunny images making fun of the media. The candidate has been subjected to enhanced scrutiny in the past week over claims that he embellished parts of his rags-to-riches story.
The stunt appears to be working. What better way to show your support of Ben Carson and his strained relationship with fact than with a highly shareable image exactly calibrated to Minions-meme levels of humor. This post, less than an hour old, already has 8,500 shares.
This one is performing even better, with more than 25,000 people rebroadcasting Carson's jab.
To be honest, this goof-up is rude as hell.