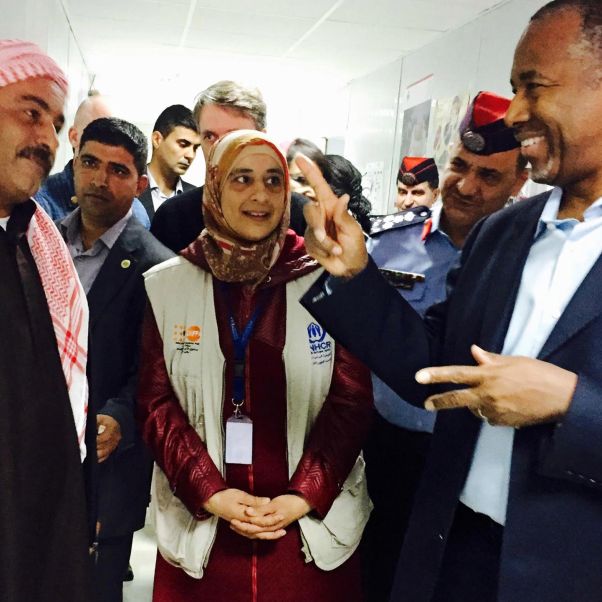 Ben Carson has been in the Middle East as part of an effort to burnish his seemingly limited foreign-affairs knowledge, and over the weekend the Republican presidential candidate went on a "factfinding" trip to two Syrian refugee camps in Jordan. After meeting with Syrians there, the candidate came away even more convinced that America shouldn't accept any of them. Speaking with the Associated Press after touring the camps and talking to aid workers, officials, and Syrians themselves, Carson said, "I did not detect any great desire for them to come to the United States. You've got these refugee camps that aren't completely full. And all you need is the resources to be able to run them. Why do you need to create something else?" Carson also said that his visit gave him no new confidence that potential terrorists could be screened out of the refugee population, a process he recently likened to handling "mad dogs."
Overall, the retired neurosurgeon came away with the sense that refugee life in Jordan wasn't so bad. "It's really quite impressive when you go over there and see it," Carson added, noting the some parts of the camps even had schools, electricity, and indoor plumbing. He also insisted that the refugees were "a lot happier. They were quite willing to stay there as long as it takes before they can get back home."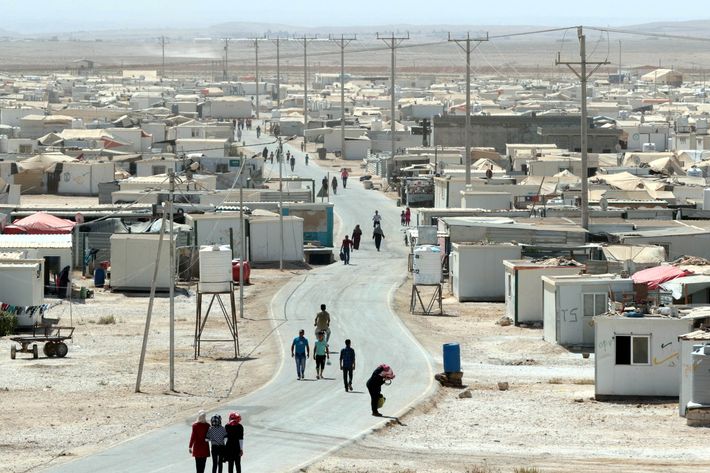 According to the Associated Press, 630,000 of the world's four million Syrian refugees have registered in Jordan, with more than half a million living in Jordanian communities, and the rest living in camps. The UN estimates that 86 percent of Jordan's Syrian refugees live below the country's poverty line, and that estimate came before 229,000 of those outside the camps lost their food aid in September thanks to the billions of dollars in funding gaps being suffered by struggling aid agencies. Carson visited Jordan's Zaatari and Azraq camps, but despite his impression that camp life was adequate, tens of thousands of Syrians have regularly decided otherwise and tried to move elsewhere. And fewer and fewer refugees are even making it to Jordan in the first place anymore — now that more restrictive border screenings are in place, as well as how much more dangerous travel in Syria has become.
In addition, it's worth looking at the situation at the Azraq camp, which is the newer and significantly more advanced of the two camps that Carson toured. Despite its better conditions, Azraq has only ever reached half of its capacity, and due to the isolation of the camp and general lack of opportunities there, many refugees who had settled in Azraq later abandoned it, as many have Zaatari as well, to seek residence in Jordanian towns and cities, attempt migration to Europe if they could afford it, or simply return to their homes in Syria — preferring a war zone to refugee life in countries like Jordan, where Syrians are mostly barred from finding regular employment and becoming truly integrated into society.
Carson said it was up to the international community to provide better support and encouragement to Arab countries hosting the refugees, though he stressed to the AP that U.S. aid should be raised by Americans themselves, rather than through increased government spending. He also suggested that Syrians can and should be absorbed into Arab countries' populations, despite the fact that those countries have typically worked to prevent exactly that, and have rejected Western calls for them to permanently resettle the Syrians. 
Facts now presumably found, Carson indicated he would be offering "real solutions to the problems created in part by the Obama-Clinton administration's failed policies" in the coming days, and got started by offering this strategy on Twitter: