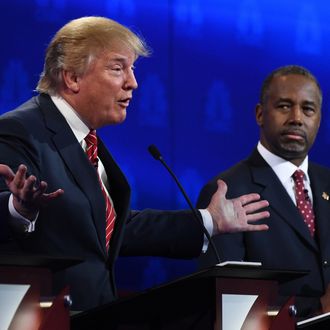 Ben Carson, deep in prayer.
Photo: Robyn Beck/AFP/Getty Images
During a 95-minute rant in Iowa last night, Donald Trump compared Ben Carson to a child molester, posited that his Evangelical rival had never been saved by God, and wondered aloud whether the people of America "were truly stupid enough" to vote for a candidate who was so "pathologically diseased."
On Friday, the Carson campaign said it was praying for the real-estate mogul.
"When I spoke with Dr. Carson about this yesterday, how we should respond, you know he was so sad about it. He said: 'Pray for him,'" Carson's business manager, Armstrong Williams, told CNN Friday morning. "He feels sorry for him because he really likes Mr. Trump … To see him just imploding before our very eyes - it's just sad to watch."
In Iowa, Trump noted a passage in Carson's best-selling memoir in which the eminent neurosurgeon confessed to having had a "pathological" anger problem as a youth. In the memoir, Carson wrote of threatening his mother with a hammer and trying to stab a classmate with a knife. Trump argued that there was no cure for a pathology that severe.
"A child molester, there's no cure for that," Trump said. "If you're a child molester, there's no cure. They can't stop you. Pathological? There's no cure."
Late Friday morning, Carson informed Trump that the word pathological does not mean incurable.

"I'm hopeful that maybe his advisers will help him to understand the word pathological," Carson said at a press conference. "It is simply an adjective that describes something that is highly abnormal."
Aside from this vocabulary lesson, Carson had little interest in responding to Trump's insults.
"Now that he's completed his gratuitous attack, why don't we press on and deal with the real issues?" he asked the assembled reporters. "It's not the kind of dialogue that I would ever engage in."
While Trump treated Carson's disputed claims of childhood violence with credence, he cast doubt on his rival's oft-cited moment of redemption, when, in the process of trying to kill his classmate, God directed Carson's knife into the boy's belt buckle instead. After attempting to physically re-create the scenario, Trump seemed to question whether Carson had ever truly discovered Christ at all.
"He goes into the bathroom for a couple of hours and he comes out and now he's religious," Trump said. "And the people of Iowa believe him. Give me a break."
"Dr. Carson (was) 14 years old at the time, it was a half century ago. Mr. Trump speaks of this as if it happened within the last year," Williams told CNN, in response to the criticism. "It's so sad watching and listening to him."
Earlier this week, Trump attempted to call out his rival over Carson's novel theories about the Egyptian pyramids.
One of Trump's other rivals, fellow candidate for the GOP nomination Carly Fiorina, responded to Trump's comments with derision instead of prayer.
"Donald, sorry, I've got to interrupt again. You would know something about pathological," Fiorina wrote in a Facebook post. "Anyone can turn a multi-million dollar inheritance into more money, but all the money in the world won't make you as smart as Ben Carson."
Trump, for his part, is not backing down. This morning, the Donald released a spooky "Friday the 13th–themed" attack ad that suggests Carson is either a violent criminal or mentally ill.