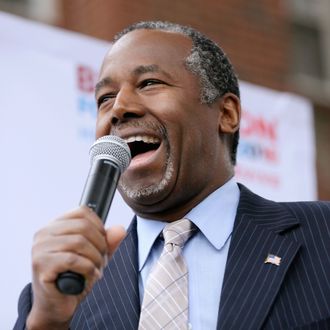 'Tis but a flesh wound.
Photo: Charlie Neibergall/Corbis
Ben Carson announced this week that he was caught off guard by the fact that becoming a presidential front-runner does not mean that you get a "Get Out of Media Scrutiny Free" card as a reward.
Despite all of his complaints about the fact that the media just seems so gosh-darn interested in why his biography doesn't always make sense, his weekend of branding himself as the No. 1 person on the Media's Most Wanted list has been financially advantageous. If anything, the unflattering reports have made his biggest fans love him even more, at least according to Carson's analysis of the situation. He told NBC News this weekend, "It's almost an us-versus-them thing. And every place I go, you know, I go to a book signing, there's a thousand people in line — 'Please don't let them get to you.' 'Don't give up.' 'We got your back.' 'We know what's going on.' 'We believe you.'"
Carson's rivals seem to think he's on to something. Many of them have seized the opportunity to remark on how the neurosurgeon is still playing little league when it comes to facing off with lamestream liberal-media monsters — and to humblebrag about the terrible literary inquisitions they have endured. 
Chris Christie told CNN on Monday that he is happy to show you the metaphorical war wounds his battles with the press have left behind. "I've got the scars all over my back to prove that a lot of people jumped to conclusions," the New Jersey governor said, referencing coverage of the George Washington Bridge scandal. "Is he kidding?" Christie asked. "Did he watch what I went through in January of 2014 for months and months of relentless attacks from people in the media and in the partisan Democratic Party when it turned out that I did absolutely nothing wrong? I haven't gotten a note of apology from anybody yet." Christie is not doing so well in the presidential polls; his toughest media scrutiny at the moment emanates from New Jersey, where many wonder when he will just give up already and come home. 
"I'm thinking, Pal, you ain't seen nothing yet," Mike Huckabee said on Morning Joe on Monday. "This is part of the process. This ain't bean bag, as they say. It is a brutal process. I've been through it for 26 years and life ain't fair, I'm telling you."
Both Christie and Huckabee have been demoted and will appear in the kiddie-table debate during Tuesday night's Republican debate. When Senator Rand Paul was asked about Carson and stories about his relationship, or lack thereof, with West Point on Hardball, he instead talked about a time where the same thing happened to him. "The media has skewered me for occasionally saying I had a degree in biology," he told Chris Matthews. "I didn't intend to, you know, tell something that wasn't true. I'm proud of the fact that I got out early and I don't have a degree and went to medical schools. So I think sometimes we go overboard with things, trying to play gotcha."
Jeb Bush would also like to note that he has had to deal with a lot of mean inquiries into his past. He told Fox News last week, "We can all be vetted. I feel like I've been thoroughly vetted, to be honest with you, and that's part of the process of running for president, but it ought to be done in an intellectually honest way and a thoughtful way and if he says that he didn't do something then I trust him, I believe him."
Meanwhile, Bernie Sanders still doesn't care about all this crap. He told Meet the Press on Sunday that he fully endorses media scrutiny of Ben Carson, as long as the coverage passes the "damn emails" test. Although Chuck Todd asked him about Carson "because you have seen some people leak out stuff you wrote 30 and 40 years ago," Sanders did not take the opportunity to get sympathy by bringing up his own media war stories, although he also had some complaints to share to whatever volunteer ombudsman might have been listening. "I think it might be a better idea, I know it's a crazy idea, but maybe we focus on the issues impacting the American people and what candidates are saying rather than just spending so much time exploring their lives of 30 or 40 years ago. And I think the reason that so many people are turned off to the political process has a lot to do with the fact that we're not talking about the real issues impacting real people."