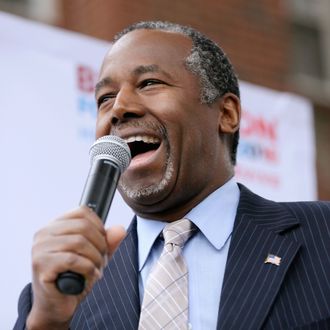 Photo: Charlie Neibergall/Corbis
Good morning, Americans. The weekend is fast approaching, and Ben "Pyramids" Carson has something to get you in the mood to party or tear your hair out: a 60-second rap-flavored campaign ad.
Thankfully, the GOP presidential candidate does not do any of the rapping himself. That task is left to someone called Aspiring Mogul, whose lyrics include "Ben Carson 2016, vote and support Ben Carson/For our next president/It'd be awesome." Carson's contribution consists of a stump speech played over the (not-good) beat.
The ad, officially titled "Freedom," is set to run for two weeks in Miami, Atlanta, Houston, Detroit, Birmingham, Jackson, Memphis, Tennessee, and Little Rock, but people everywhere can listen to it right here on the internet:
Can't wait for the mixtape!