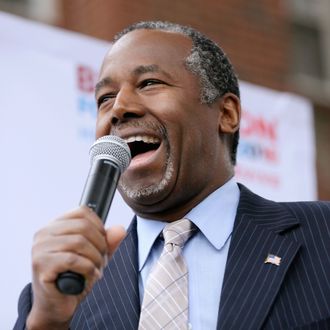 The future commander-and-chief
Photo: Charlie Neibergall/Corbis
Like most of the Republican presidential field, Ben Carson doesn't want to give Syrian refugees a home in the United States. But on Black Friday, the retired neurosurgeon will be giving a few of the younger ones a Beanie Baby.
Carson will make a surprise visit to the Azraq refugee camp in northern Jordan on Friday, where he plans to visit a hospital and clinic, hand out some soccer balls and Beanie Babies, and deepen his understanding of the refugee crisis, the New York Times reports.
"I find when you have firsthand knowledge of things as opposed to secondhand, it makes a much stronger impression," Carson told the Times.
Making a stronger impression on matters of foreign policy is a top priority for the candidate, who has seen his poll numbers steadily decline in the weeks since the Paris attacks. In that time, Carson has erroneously suggested that China was involved in the Syrian Civil War, tried to express his empathy for refugees by comparing them to a pack of wild dogs, and had one of his own foreign-policy advisers say that he hasn't learned "one iota of intelligent information about the Middle East."
Carson's fellow outsider candidate, Donald Trump, has actually managed to gain support amid heightened concerns over national security. While Trump boasts little more expertise in foreign affairs than his rival, his unwavering self-confidence and calls for expanding surveillance on Muslim Americans have allowed him to retain his front-runner status.
Carson hopes that with research and time, he can present himself to voters as a more convincing commander-in-chief. Asked by the Times if he thinks that concerns over terrorism have lost him the support of some voters, Carson said that he agreed with that assessment.
"That's why it's a good thing it's a marathon, not a sprint," Carson told the paper. "As time goes on they will begin to listen more carefully to what I'm saying."