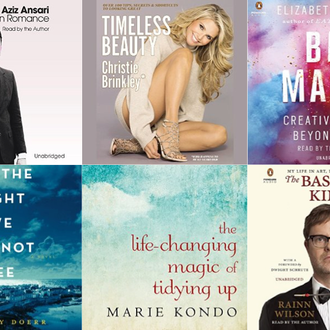 Every minute in New York City counts, which is why everyone finds creative ways to multitask, some good (taking conference calls on the way to the gym), some bad (eating dinner in a laundromat), and some ugly (clipping nails on the subway). However with this never-ending juggling act comes an equally long list of books you've been meaning to read. It turns out audio books are one of the best-kept secrets of the most productive multitaskers out there. Turn a mindless commute, tedious housework, and long lines at the grocery store into time well spent with great audio books from Audible offering easy tweaks to your most common time-consuming activities.

Waiting Forever for the Subway
Train delays give you plenty of time to think about how you're getting from one place to another—and we don't just mean with your MetroCard. When you start thinking about where you're going in life, check out an inspiring memoir like Rainn Wilson's hilarious The Bassoon King: My Life in Art, Faith, and Idiocy.

Cooking a Meal at Home
Eating dollar pizza every night is probably not ideal nutrition—get creative in the kitchen while you slice and dice your way to a healthy meal and fulfilled soul. For some serious food for thought listen to this while you chop: Big Magic by Elizabeth Gilbert.

Working on Your Abs
You might be a force to be reckoned with on the elliptical, but you could be working out your brain muscles as well with audio books like the novelization of Star Wars: The Force Awakens by Chuck Wendig, set to coincide with the release of the blockbuster film directed by J. J. Abrams.

Cleaning Your Tiny Apartment
Staying organized is essential to maintaining your sanity in a cramped New York City apartment. Embrace the Zen of housekeeping (or hire a cleaning service) and gain newfound appreciation for The Life-Changing Magic of Tidying Up: The Japanese Art of Decluttering and Organizing by Marie Kondo.

Hanging Out in the Park
A walk through Central Park with the birds chirping away might transport you right into what feels like a romantic novel a la See Me by Nicholas Sparks.

Wasting Time Doing Nothing
Even the busiest New Yorkers have days when they literally just waste time around their apartments…doing nothing! When you skip brunch to indulge in laziness, make it only half excessive with an audio book like But Enough About Me: A Memoir by Burt Reynolds.

Grocery Shopping During Rush Hour
New Yorkers spend a lot of time waiting in lines and perhaps none are longer than the grocery store right after work. Instead of obsessing about how many minutes you've been waiting, put in your earbuds and escape with with The Bazaar of Bad Dreams: Stories by Stephen King.

Window Shopping for a Runway-Ready Wardrobe
Looking like a slob is not an option in New York City, but dressing sharp and looking great takes time. Glean supermodel wisdom for looking amazing at any age with Timeless Beauty: Over 100 Tips, Secrets, and Shortcuts to Looking Great by Christie Brinkley.

Waiting in Line at the Post Office
No doorman and a missed package delivery can mean a dreaded trip to the post office. While you might not see the light at the end of the proverbial tunnel as the line inches forward, you can enjoy All the Light We Cannot See by Anthony Doerr.

Browsing Online Dating Profiles
Swiping left and right through potential romantic interests is incredibly time-consuming—and at times soul-crushing. Find the humor in Modern Romance: An Investigation by Aziz Ansari and Eric Klinenberg and laugh off the ups-and-downs of looking for love.