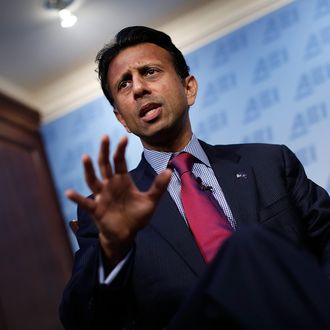 Photo: Win McNamee/Getty Images
After Tuesday afternoon, there are only 14 candidates left in the Republican presidential race.
Louisiana governor Bobby Jindal, who has been averaging less than one percent support in the polls — and whose approval rating in his home state was racing to match his dismal national numbers — announced that he was no longer running  for president on Fox News this evening. 
"This isn't my time," he said, which is something that most other Americans had realized shortly after he began campaigning back in June. Jindal's campaign may have unofficially begun when National Review published a story headlined, "Weight Watchers, 2016: Jindal Puts on 13 Pounds" in October 2014.
Jindal, the first Indian-American to become governor in the U.S., has long been on the list of "Republicans Who Could Maybe Be President Someday" — at least he was before he kind of messed up his big introduction to the public in 2009, during a less-than-admired response to President Obama's first State of the Union address. Rick Perry and Scott Walker were also on that list; clearly none of them expected that the 2016 race would instead be dominated by people who have no political experience but are terrifyingly good at being on camera. Jindal definitely didn't. He told Fox News host Brett Baier, "We spent a lot of time developing detailed policy papers. Given this crazy, unpredictable election season, clearly there wasn't an interest in those policy papers."
The gubernatorial election for Jindal's replacement back in Louisiana will take place this Saturday. After that, he will be out of a job — and after today, with no exciting possible promotions. According to a statement put out by his campaign, he is eager to go work at the think tank he started, America Next.
And in case you were wondering, yes, Jim Gilmore and George Pataki are still running.