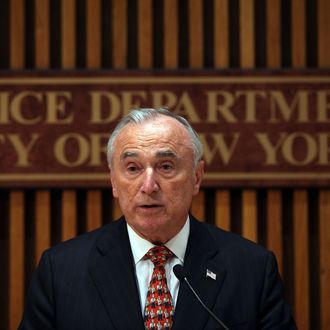 Don't ask him for spare change.
Photo: Spencer Platt/Getty Images
During a press conference with the mayor late yesterday, police commissioner Bill Bratton seemed to go off script, outlining his personal policy for curbing the city's homeless problem: Stop opening your wallet. "My best advice to the citizens of New York City: If this is so upsetting to you, don't give. One of the quickest ways to get rid of them is not to give to them," Bratton said.
The press conference was derailed when a reporter from CBS2 showed Commissioner Bratton and Mayor de Blasio a picture of a homeless woman with an assortment of pets panhandling at Broadway and West 68th Street on Saturday night. The commissioner brushed this off as a cheap trick to gain sympathy. "You can see that repeated in a number of locations around the city, with the animals, et cetera, which is, for the beggars, that's an additional inducement to people to give," Bratton said.
When the mayor took the podium, he quickly segued to the fact that his administration had broken up nearly two dozen semi-permanent homeless encampments where people had been living for years. "It was absolutely unacceptable – not anything that should've been tolerated in modern civilization. Those were taken down," the mayor said.

A Times report published late last month shows that despite de Blasio's attempts at reversing Bloomberg's homeless policies, the shelter system is still bursting at the seams. As cold weather returns to the region, the shelter system could reach or break last year's peak occupancy of 59,068 people under the city's care.